Black cars have this aura that engulfs their surroundings and gives off this vibe that something's about to go down. And to have that aura, you need to know the best cleaning practices — knowing the best wax for black cars is one of them.
Nothing will go down if they are covered in dirt or have swirl marks all over. I have owned a couple of black beasts, so I am familiar with the pain a little too much — Light scratches appear like huge scratches on dark-colored cars.
Keeping black paint crystal clear is one of my guilty pleasures. There are plenty of great products to choose from.
My Top pick is the Turtle Wax T-3KT Black Box Kit, as it's reasonably priced and does a great job removing all the light scratches and swirl marks. Plus, the deep shine you get afterward is something to drool for — thanks to the black pigments incorporated in the wax. Furthermore, you get long lasting protection.
I will give you a detailed review of some of the best black car wax available for enthusiasts and pros. So let me take you through weeks of research, using these waxes, comparing all of them side by side, and picking only the best of the best car wax for your dark colored cars.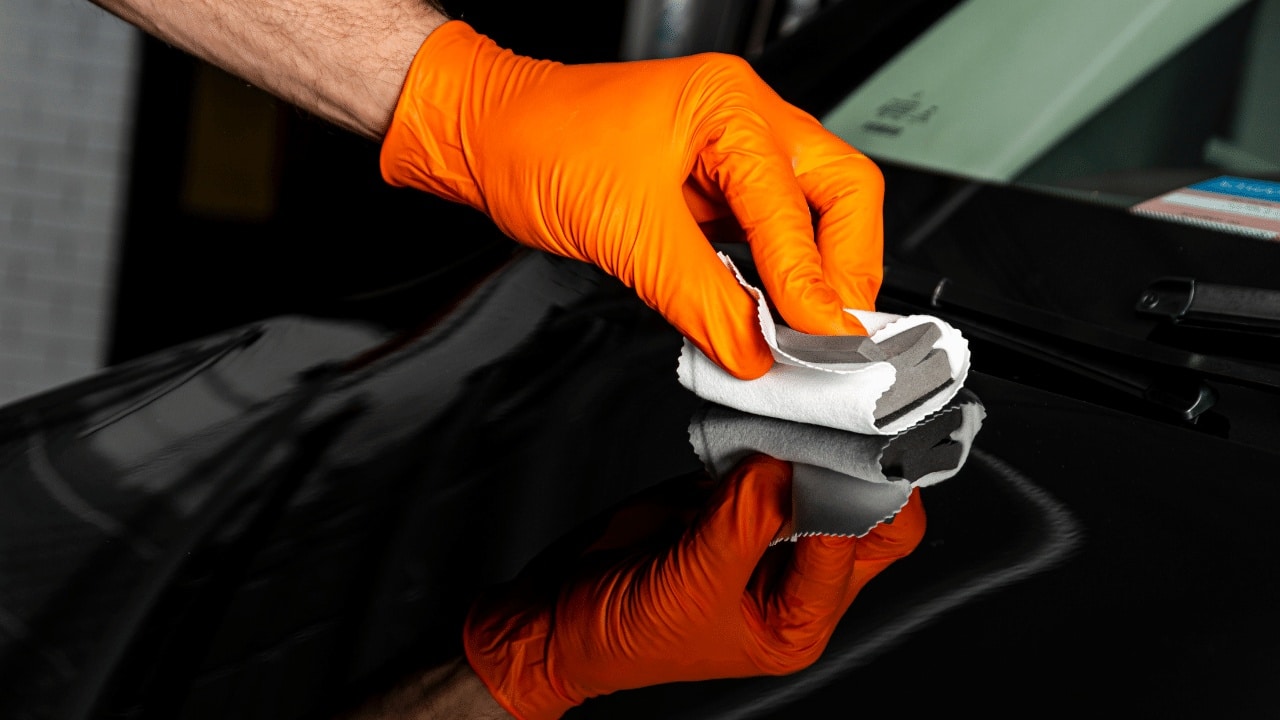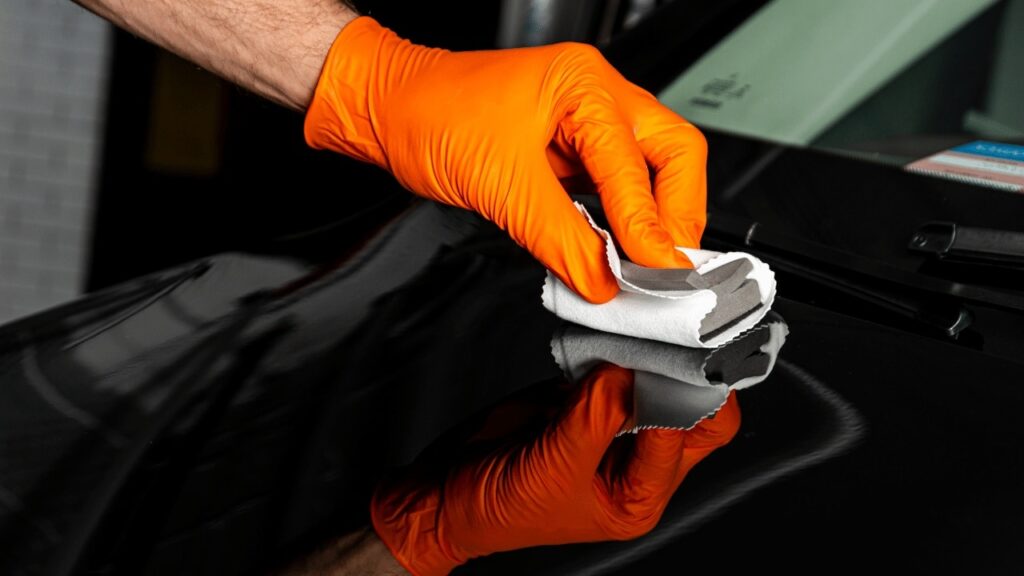 Best Car Wax for Black Cars
There are hundreds of synthetic waxes as well as natural waxes to choose from, so to make things easier, I have handpicked the best black waxes for black cars, so you can make an informed decision.
Turtle Wax T-3KT Black Box Kit

– The Overall Best Black Wax

Meguiar's G210516 Ultimate Liquid Wax

– The Best Budget Black Wax
Car Guys Liquid Wax – The Best Premium Black Car Wax

Scholl Concepts Premium Vintage Wax

– The Black Wax Used by Professionals

Chemical Guys Butter wet wax

– Honorable Mention
Product Name
Product Name
Turtle Wax T-3KT Black Box Kit
Meguiar's G210516 Ultimate Liquid Wax
Scholl Concepts Premium Vintage Wax
Chemical Guys Butter wet wax
Cost
Cost
4.5 stars
5 stars
4 stars
2 stars
4 stars
Longevity
Longevity
4 stars
2 stars
5 stars
5 stars
2 stars
Removing swirl marks
Removing swirl marks
4.5 stars
4 stars
4.5 stars
5 stars
4.5 stars
Application and buffing (ease of use)
Application and buffing (ease of use)
3.5 stars
3.5 stars
4 stars
5 stars
3.5 stars
When it comes to the pros of car wax, this has to be on the top of the list. I have used a bunch of detailing products — way too many car waxes, and this car wax stands out the most.
You get the whole kit of detailing sprays and liquids/paste wax to get that perfect streak free finish. And to top it off, you get the turtle applicator pad which makes things much easier, as, without a proper applicator pad, you would only be running around in circles.
There are a bunch of different applicator pads available in the market like soft foam applicators and microfiber ones, but this one works like a charm, and why wouldn't it? It's given by the company itself.
I have used this product myself a couple of times, and I am always blown away by how much it enhances the paint job, and not just on the black cars; I have tried it on other darker-colored paint jobs, and it even enhances those and give them a deep shine.
This is without using any other protective layer; it's just simple cleaning and using this wax for black cars. I haven't even used a clay bar here.
Now when I say it's the overall best, there are many things in play here.
The price is right, and it works great. What more could I have asked for?
Okay, I do ask for more. First, the application is not easy since it has the black pigments that are not easy to spread out evenly, especially when you are applying only the wax and not any other product prior to it — to make the surface contaminant free.
And make sure to shake the liquid wax as well as paste wax, the last thing you would want to deal with is a bunch of those pigments getting stuck in one place.
The dual action polisher can make things convenient for you, so it's best to have it in hand; trust me, you won't regret it.
The one that I recommended here does not include the polish, which is a bummer; only if they had also included it here, I would be singing praises for this car wax. You can either use a hybrid one, or you can use the simple polish.
If the surface of the paint is uneven, it's best to give it the clay bar treatment, and the cherry on top would be to use a polisher/compound as well.
Note: It only works on faded paint and fine scratches; if your paint or the clear coat is damaged, it will be useless, which means you need a full paint restoration/correction.
I found this really damaged black paint, and as you can see, it didn't do any miracle, you would have to do some paint correction for the black paint of older cars to have its shine back.
Some people would prefer deeper dark color over a glass-like finish, so you can fiddle around with the kit. If you want a deeper color, you can skip the pre-wax cleaner and put compound instead.
The conditioner comes included in the kit, and when it gets paired with the wax, oh boy, the results are amazing.
Inexpensive 
Amazing results
Include a bunch of great detailing products 
Can be used on darker-colored cars 
Lasts long
Not easy to buff off 
Does not work with uneven surfaces
So when it comes to budget, it's best not to go for those fancy premium stuff as there won't be any apparent change, which would justify the cost.
Here, the best budget option is not only cheaper, but you also get great results. So much so that you would realize that the Chemical Guys is just overrated.
The only difference between normal-priced wax and premium wax will be the cost, while the work itself is about the same.
A pro with normal-priced wax can bring out better results against a so-called premium wax when given to a noob.
These waxes will give you the best results when you also give your paint the clay bar treatment. Now, if your paint itself is damaged, i.e., there is a lot of water damage or the clear coat has gone to heaven, you won't get good results, not even with a premium wax.
The best thing about this product is that you can even apply it in the open sun. So that's a win if you want to apply the wax on the go.
The applicator pad and microfiber cloth are included with the wax, so if you don't have one, you can simply use the one that comes with the kit; however, the applicator pad is not that great, so it's best to use a better one when possible.
The shine and protection given by this Meguiar's ultimate liquid wax are superb. The water beading can be seen right after you are done with the application; however, it's recommended to wait about 24 hours before taking it on the road.
Most waxes are like this, after each application, you would have to wait for about a day to let that wax work its magic and become the shield for oncoming challenges your paint is to face on the road.
Another good thing about this product is that it's carnauba free, which means you don't have to worry about the cloudy white smudges on your plastic trim pieces if it gets on them.
Not only do you not have to worry about the white smudges, this wax even gives your plastic trim pieces extra shine.
If you want something that does contain carnauba wax, you might have to resort to the butter wet wax for black cars, which is offered by Chemical Guys.
This liquid wax is relatively easier to apply and buff off, so even if you are completely new to the detailing scene, you will be able to get good results.
Make sure to get a bunch of microfiber towels. If you only have one microfiber towel, you might scratch the car's paint.
The only downside is that it won't last as long as some other waxes, and it's not easy to buff off.
Inexpensive 
Does not stain plastic and rubber trims
Repels water 
Can be applied under the sun 
Does not last long 
Not easy to buff off the excess wax.
Car wax is something that comes into the category of "more expensive does not mean better" you can have good results even with a lower-priced wax as well.
Now I would not recommend the dirt-cheap paste waxes out there as they tend to damage your clear coat. You might get the shine you are looking for on the cheaper wax, but at the expense of damaging your paint.
So this premium black wax should be relatively within the budget, not skyrocketing off the roof.
I looked at a bunch of different premium black waxes out there, and there is one that qualifies for my list while still being within the budget.
Car Guys says this wax is good for all colors, not just black. So your black car or any other vehicle in your garage will get shiny with this wax.
It comes with an applicator pad + a high-quality microfiber cloth, which means this deal is a steal.
I have seen so many awful products selling at this price tag, claiming to be a kit that does every detailing job, but they are not that great. I received a kit from a relatively new company, I am not going to say the name, but it was awful.
It's best to stay away from those super cheap kits and get only the stuff you actually need. I would recommend the paste wax which is solely a wax and not any other hybrid or all-in-one wax.
The Carnauba wax is a relatively old thing, and now there are much better products, such as paste wax or liquid wax, which do a much better job than traditional carnauba wax.
The Car Guys is a premium brand, and the price is only slightly more than other products like Meguiar's and Turtle, but not insanely expensive like this other product that went through my screening process — the Blackfire (the end result did not justify the cost)
The Car Guys, on the other hand, is competitively priced, and it lasts much longer (up to six months) than any other wax in the same price bracket.
Plus, the hydrophobic characteristics are out of this world; the water beads off like crazy.
So this wax is the best liquid wax for black cars.
On the other hand, brands like the Chemical Guys sell this butter wet wax, which although is good, the longevity is not that great and will only last about a month.
The only downside — you should avoid getting this wax on plastic and rubber trim pieces. Make sure to cover them while using this wax.
The butter wet wax does not damage the plastic trims, which is a plus for the butter wet wax against the Car Guys Liquid Wax.
Easy to use 
Premium product 
Not so expensive
Can be used on all colors 
Lasts much longer
Extremely hydrophobic 
Great UV protection
Affects/damages the plastic and rubber pieces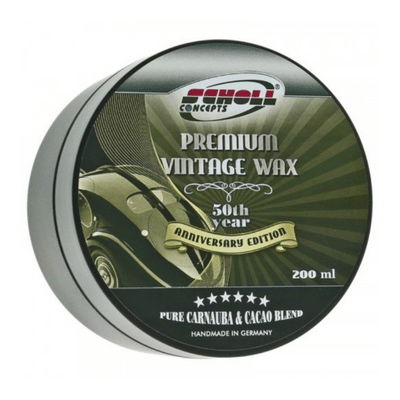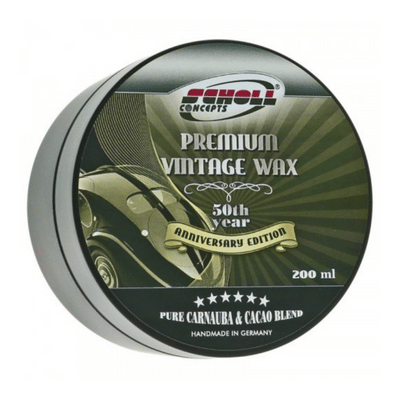 When it comes to professionals, you don't really have one winner.
Most professional detailers would either use sponsored products, or they would have their own secret blend to get things super sleek.
However, if you want something close to a professional finish, you can get your hands on one of the Scholl Concepts Premium Vintage Wax; I would say grab it and don't let it go.
The best results are only seen when the wax is coupled with compound/polish with your good old clay bar treatment. The paint corrections is as important as cleaning the dirt and grime from your car.
With a clean, spotless canvas, the final picture comes out more enhanced, which is why you have to consider giving your car a proper spotless surface before you apply wax.
Another great product is Feynlab; the only reason why I didn't put it here is the cost. If money is not a problem, get the whole detailing supplies; It's a show winner.
Zaino is somewhat controversial among the pros since its production materials are old school, while Feynlab is the cutting-edge technology of the 21st century.
This is the only product by Chemical Guys that I can vouch for. It works great and it can also remove paint stains from the car's paint, so if there's anyone with a grudge against your car and had spray painted it, you can use this wax.
it's not marketed as a black wax for black cars, however, it does a pretty decent job of bringing out the deep gloss.
The part where it does not live up to the hype is the longevity. The wax is just a rainshower away from its demise. Plus, it's not easy to buff off if you have an uneven paint finish.
Deep shine
Removes overspray
UV protection
Does not last
Not easy to buff off
Why Should You Wax Your Black Car?
Every other car will show signs of oxidation and swirl from all the bad cleaning practices, not to mention the toll of time itself.
Black cars, in particular, are extremely prone to get swirl marks and other paint damage, even the slightest bit of sand chipping will be super visible on the black exterior.
Wax is a convenient way to mask or reduce some of the visible damage and make the color look more deep and rich.
The surefire way is to give your car a proper paint protection treatment that involves paint correction, polish, wax, and coating (ceramic/sealant).
Wax itself is kind of a maintenance step that can be carried out every once in a while to make the paint last as long as possible.
Benefits of waxing your black cars
You get rid of the swirl marks
The paint remains smooth and shiny
You get protection from UV rays
You get a screen that repels water, so you have much less water damage
The clear coat of your car is protected
Minor scratches disappear
Types of Car Waxes
There are numerous types of car waxes intended for a number of different purposes.
You have dedicated wax-only applications; then you have hybrids that are part wax and part Polish.
Then there are the composition differences in these waxes, i.e., some are liquid in the form of spray while others are in paste form, and then you have the good old solid wax.
I have divided the waxes into two major categories — composition and intended use.
Composition
Based on the composition/material they are made of, you have the following
Liquid Wax
Solid Wax
Paste (suspension) wax
Intended Use
Wax only application
Wax + polish
All in one dry wash + wax for black cars
Liquid wax
The liquid wax for black cars is mainly used in between waxes as the liquid wax does not give long-lasting protection like other waxes and most of them are full synthetic wax.
I have reviewed some of the best spray wax, which going to revive the car's paint to a whole new level.
Paste wax
Paste wax for black cars is as good as those solid wax for black cars, the application however is easier in paste wax compared to solid wax.
Carnauba wax
Carnauba wax has been around for as long as I can remember, and is mostly seen in the solid wax (sometimes 100%) while it's a component in the rest of the categories as well.
I am not a huge fan of carnauba since there is white residue left behind, especially on the plastic trims and rubber parts.
The only carnauba wax for black cars I would recommend is the Car Guys Butter wet wax for black cars, as its quite forgiving and would buff out without much effort.
Difference Between Car Wax and Polish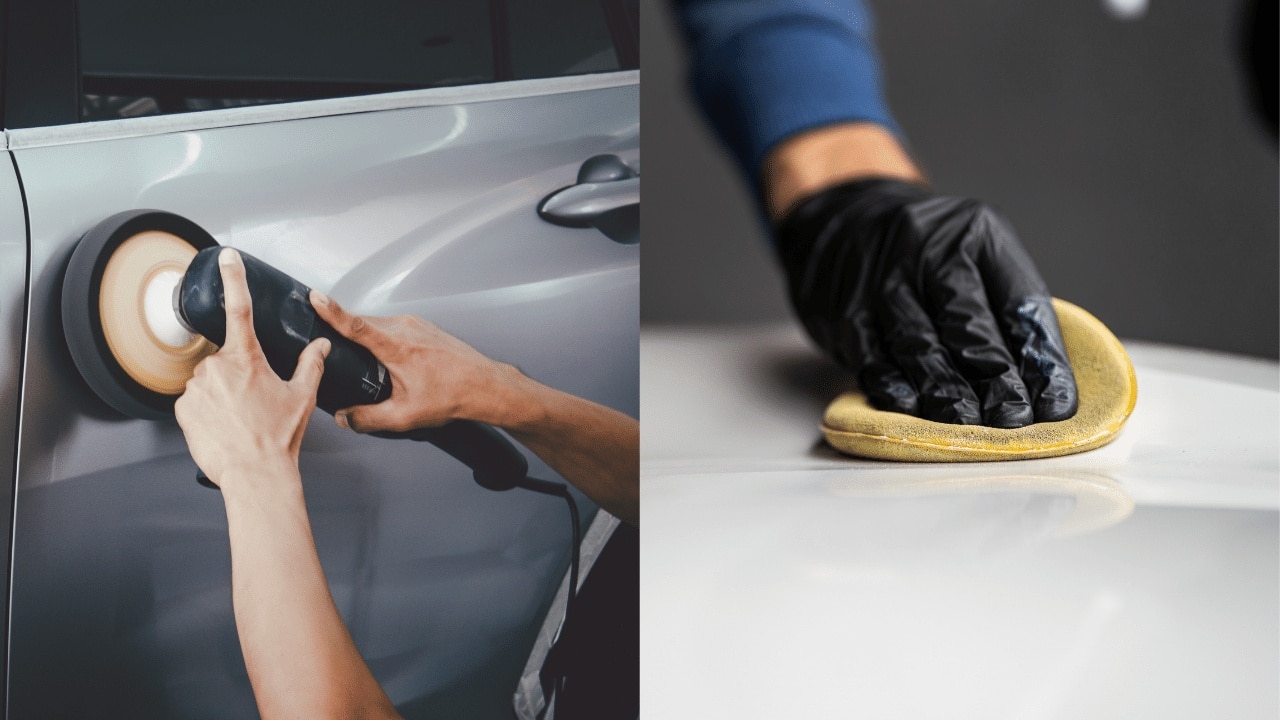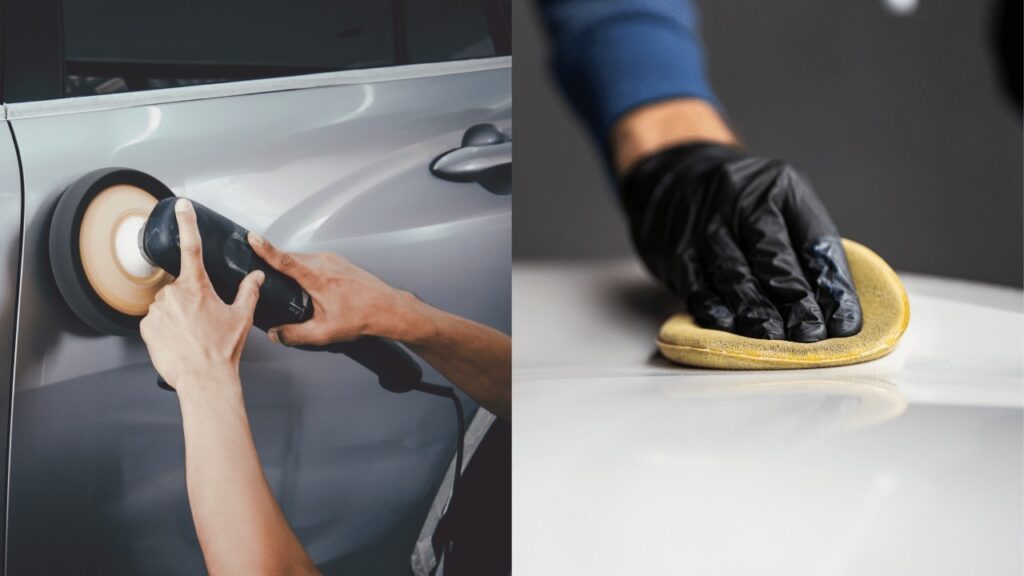 Car Polish
A polish contains a cutting compound that evens out any imperfections on the car's black paint, which also tends to remove scratches that otherwise wouldn't be possible to remove with a wax-only application.
Though the wax itself does not remove any scratches, it basically masks those scratches. It's the polish that can remove the surface scratches up to an extent as it evens out the whole surface.
The extent of how much a polish can cut is given on the label. You go from higher cutting to the lowest cutting polish.
Some black car owners might get scared after seeing the results of a high-cutting polish as the black car paint appears to lose all of its shine.
But the process does not end there. You would have to continue the process a couple of times, reducing the level of cutting polish each consecutive time, and finish it off with wax and sealant.
Car Wax
Wax is something you would use after every wash or two. It tends to come off with soapy water if you do not have the ceramic coating or sealant.
Things to Consider Before Buying A Wax for Black Cars
First, you need a black car.
Okay, not really. You can use black wax on any car, given that it has a dark color, which means if you have a light-colored car, you are not supposed to use black wax on it.
Now, if you are like me and you have a bunch of cars with dark paint, you can use black wax on them without a problem.
I used the black wax on my dark purple track build and was amazed by the results. It gave it a very nice deep finish and light scratches were nowhere to be found. The color looked even better after the wax, and I am talking about a 12-footer car.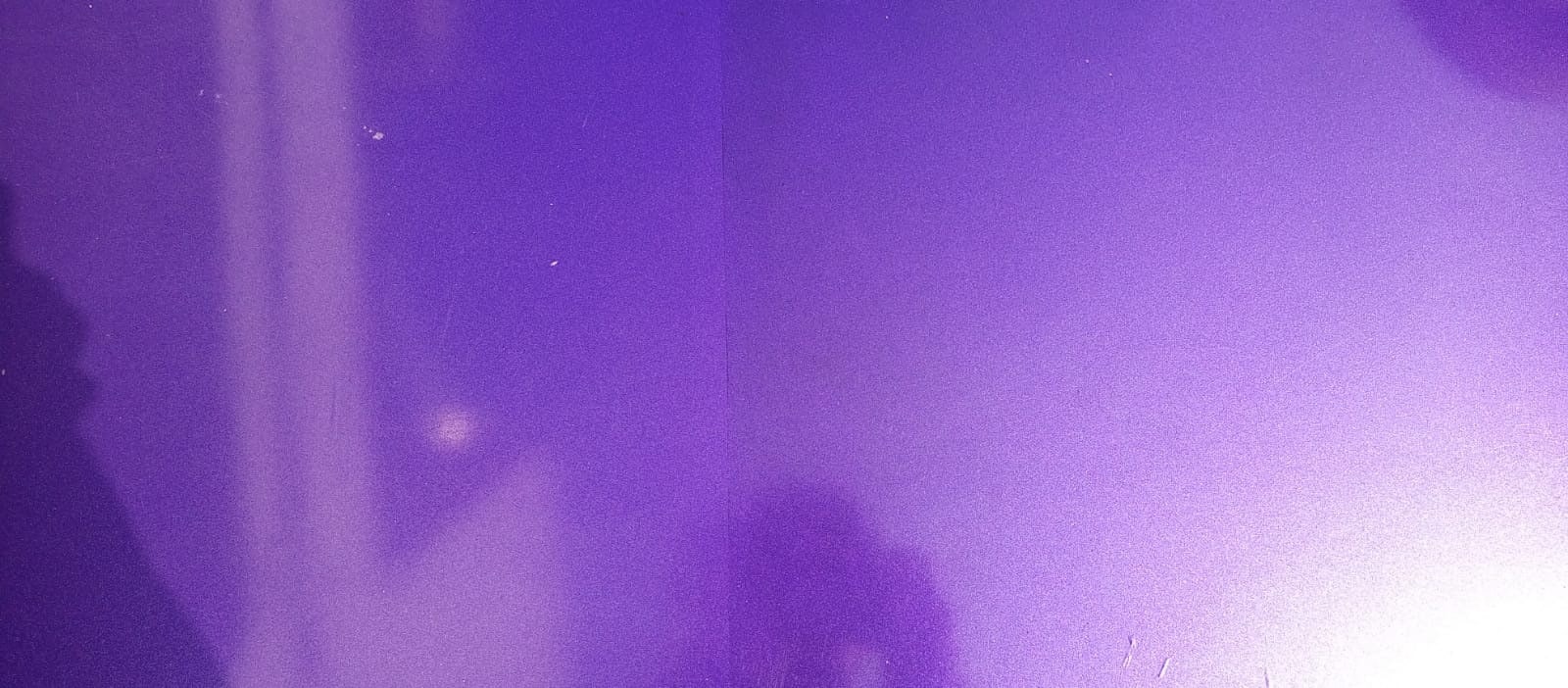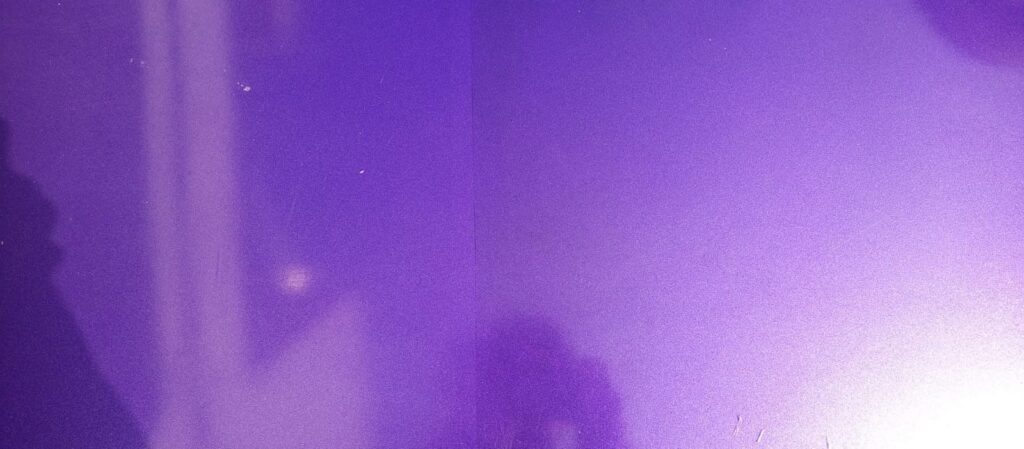 You can also use normal wax; however, the color won't come out as deep as you get in the black wax.
The application method is where you would need some guidance. The pigments in the black wax can become difficult to handle when doing hand application. A dual-action polisher can make things easier.
Things to look for in a black wax for black cars
long-lasting protection
Easy applying wax
Easy buff/remove wax
FAQ
How often should a black car be waxed?
A lot more often compared to your regular colored cars. Even the slightest bit of imperfection is visible on black cars, which is why they often require more upkeep/maintenance.
So make sure to give your black car the wax treatment every so often to make sure that the dirt and grime should glide past and do not get stuck on the surface. Keeping it waxed and protected will give you less headache of cleaning it all the time.
Should you wax a black car?
Yes, you should wax a black car, and you should do it more often than your regular colors since even the slightest bit of imperfection is super apparent on black cars. Waxing can help reduce and avoid those imperfections and give a stunning deep black look to your car's black paint.
Is black wax better for black cars?
Yes, black car wax is better for black cars, in fact, black wax works on every other dark-colored car. Most of these black waxes would have pigments/black tinted wax that offer a deep jet-black finish to your black cars, and if you were to use it on darker-colored cars, you would get that revived rich color with a really nice tone to it.
What is the best wax to put on a black car?
The wax put on black cars with proper technique is the best wax. However, with the same technique, many black car owners can get different results depending on the product used on their black vehicle.
I have reviewed dozens of waxes for black cars, and I do have a winner which performs the best overall — the Turtle Wax T-3KT Black Box Kit. The black paint of your vehicle will get rejuvenated to a whole new level.
How can I make my black car shine like glass?
To make your black car shine like glass, you would need to perform a couple of steps.
Give your black vehicle a thorough cleaning, and make sure there is no dirt or grime visible on any of the car's black paint.
Do the clay bar over the whole vehicle. Depending on the level of contamination you have, you can use a medium or fine clay bar or a higher one for lots of contamination/ rough surface.
Once the surface is smooth and the clay bar glides on it with zero effort, move on to the polishing/compound step.
You start from a lower number/higher grit polish and make your way to a higher number/light polish (containing much less cutting compound and giving a fine finish)
Once you are done with the polishing step, you would then move on to the waxing step, for which you can use either spray wax for black cars or any other waxes for that matter.
For the cherry on top, you can put on some sealant/coating to keep all of that treatment protected so it lasts longer on your black paint.
With all these steps, your black car will shine like glass.
How long does Meguiars black wax last?
Meguiar's Black wax tends to last about 3-4 weeks max. The time it lasts highly depends on the conditions you drive in — during rainy season, it won't last as much, and if you are washing it every other day with soapy water, it will come off after two washes.
A sealant, however, can prolong the time it would last, but only by a few extra weeks.
What wax do professional detailers use?
Professional detailers either use sponsored detailing products, or they would have their own secret recipes when it comes to the products.
However, if you want something that can compete with the professionals, I would recommend the Scholl Concepts Premium Vintage Wax. I haven't come across a single wax that can compete with the results from this wax, especially on black cars.
Best Car Wax for Black Cars – Summary
After weeks of research (mostly waiting for the products to arrive), I have tested and reviewed so many waxes that I have lost count, but I did decontaminate my list of all the impurities; I mean bad waxes, so you know which one is the best black wax for cars.
If you are looking for something that can be used on a regular basis on the go, with minimum effort, the best car wax is Meguiar's Ultimate Liquid Wax.
For detailing enthusiasts, the best car wax is Turtle Wax T-3KT Black Box Kit; the application and buffing can be challenging, for which you can use a Dual Action Polisher. Using one is not necessary; however, it can make the job quite easy. 
The next one on the little higher end is the Car Guys Liquid Wax, which is made in America and gives an amazing finish to your black paint. It's not particular to any color, so you can even use them on white or any other light-colored paint job as well.
Now for the most premium of the premium, the best car wax turns out to be the Scholl Concepts Premium Vintage Wax, which is hands down the best wax for black cars.
It's not marketed as the best black wax for cars, so it's not just for black cars; you can use it in all colors.
To get the best finish, I would highly recommend using a clay bar to remove all the contaminants from the surface, and don't forget to use an applicator pad to apply the wax evenly.
Related Content: