A dual action polisher can be a great tool to fasten the process of waxing, buffing, or sanding the surface of your vehicle. A powerful tool, it saves a tremendous amount of time, energy and material consumed that would otherwise be used up in truckloads if you tried to polish your car manually using your hand.
We're helping you choose the right car polisher by listing the best dual action polishers. Why not automate the process of polishing your car and spend the saved time doing something you love? The market offers plenty of dual action polisher brands to choose from!
Not only in terms of the way they work but also their ergonomic design, efficiency, power supply, and cost have been looked into. This is something I have researched apart from having gone through plenty of user reviews online to understand the functioning of each model in the real-world scenario and understand the common shortcomings reported by users.
Without further ado, I'm letting you know that the best dual action polisher as per my research and analysis is Meguiar's MT300 Dual Action Variable Speed Polisher.
Leaving aside the praise it has earned across the internet, the polisher is so easy to use that even a beginner would feel like a professional when he/she begins using it. Among many points, the digital torque management system, manual speed settings, and soft start feature make this one the best!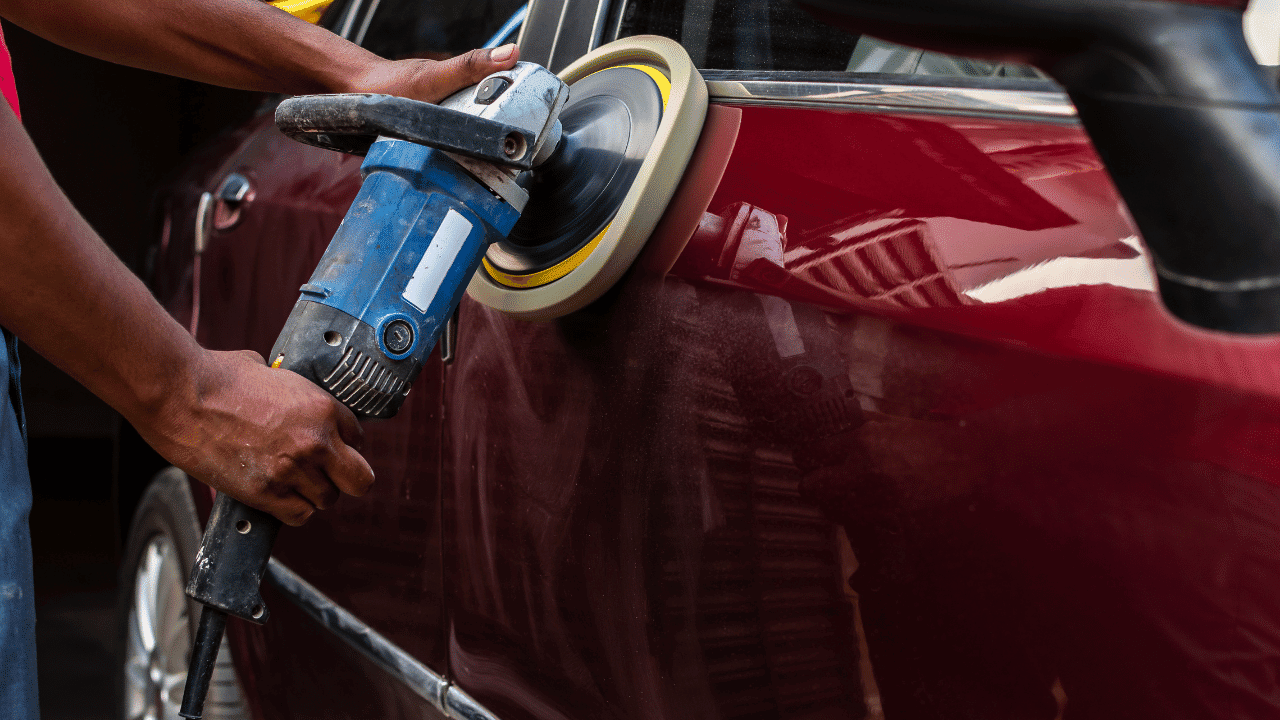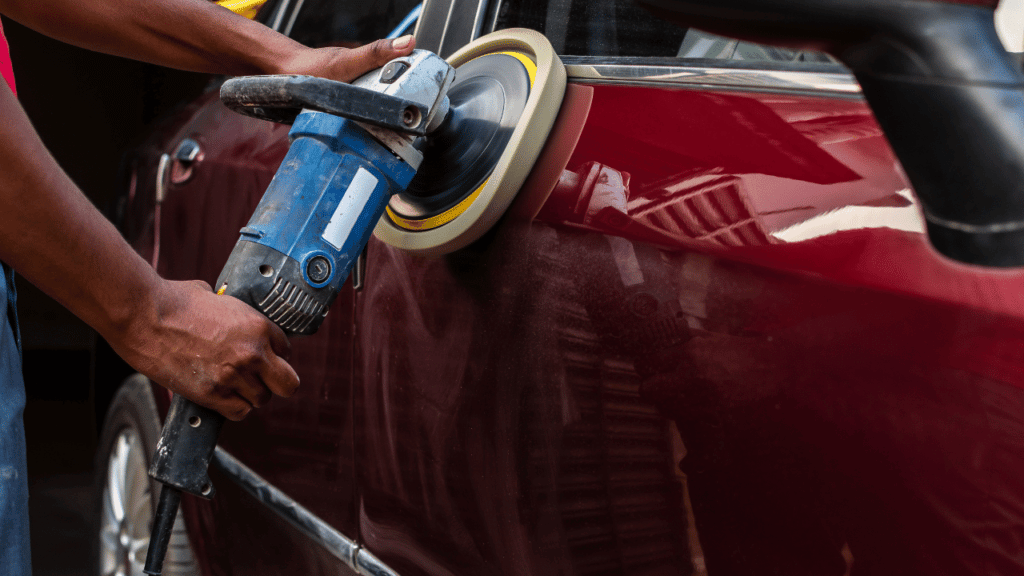 The 6 Best Dual Action Polishers For Cars
Specifications:
A strictly non-elbow grease dual action polisher, the MT300 from Meguiar is not only the jack of all trades but also the master of all. Its no-nonsense simple and ergonomic design ensures you work comfortably throughout the car's surface while choosing the speed at which you want to move about.
All you have to do is adjust the speed with a flick of the thumb. A soft start feature helps get up to speed when you've just started working with it.
The dual action car polisher is smart enough to adjust the torque on its own and adapt to the speed you have set, all thanks to its digital torque management. It is offered with three polishing pads that are designed to be used with other Meguiar products.
Car polishing can be a walk on the beach with the MT300 since the billet counterweight helps gain balance and precision. If you're someone who loves accuracy and are quite particular about the finish of the polish on your car, this is one polisher that you must consider. Another advantage is that it won't make a large hole in your pocket.
Pros
The Electronic Torque Adjustment Feature 
Soft Start for Safer and Smoother Operation
Well Balanced and Precision Oriented
Best Ergonomics
Cons
Some Users May Feel It Is Heavy to Use for a long Duration
It is Quite Noisy
Specifications:
For someone who just intends to start with a do-it-all dual action polisher, look no further than the Avid Power Dual Action Random Orbital Polisher. This is the best polisher for someone who intends to start polishing their car and has no knowledge of the process in detail.
It is also ideal for anyone who wishes to polish their car occasionally since the polisher is budget-friendly. However, don't be fooled into thinking that the Avid Power dual action random orbital polisher is not meant for professional use.
It comes with six variable speed modes and is capable enough to be used in professional settings. The polisher is offered with three foam pads. The primary reason why it is beginner friendly is because of the ease of use factor and most importantly, its low-cost price which would attract any first-timer to try it out
Pros
Beginner-Friendly Ergonomics
Safer Operation Since It Is a Random Orbital Polisher
Well-priced 
Can Cater to Professional Demands
Cons
Depends on an External Power Source
Can Get Noisy
If you're a car owner hesitant about investing a lot of money in a dual action polisher but you want one that does a pro job of the work, I would strongly suggest you consider Chant Power's dual action polisher. Keeping budget in mind, it is the best dual action polisher you can get your hands on!
The polisher comes with a lot of kit- a microfiber towel, a hex wrench, three foam polishing pads, a microfiber wash mitt, a D handle, and lastly, a side handle. Oh yes, it also includes a dual action polisher (obviously!).
Not only that, the polisher has six variable speed options with a speed range from 1500 to 6800 RPM. The amount of bang this polisher packs for the amount of money you pay is literally huge! I can almost assure you that it is almost close to impossible to find a good quality dual action polisher at this price point.
Pros
Offers Great Value for Money
Six Variable Speed Option
Extra Items in the Kit Make It Highly Desirable
Cons
Depends on an External Power Source
Could Feel Heavy If Used for a Long Time 
The One+ cordless dual action polisher is an excellent choice for those who look to buff or polish their car paint professionally while also looking for convenience in a car polisher machine. This polisher offers a piece of both worlds.
Powered by a single rechargeable battery system that can be used on more than 260 Ryobi cordless power tools, one can expect a run time of two hours from a single full charge. Being cordless and having the option to change its multi-position D- handle into various shapes makes it one of the most ergonomic and convenient polishers on the market.
One can use this dual action polisher for professional purposes too since it is a variable speed polisher. It offers speed control for a smooth operation. It comes with a single polishing pad and is one of the lightest cordless polishers available in the market at this price point.
Offers A Decent Value for Money 
2 Hours of Polishing Time On A Single Charge
Swappable Battery and Is Easy to Use
Lightweight Cordless Polisher
This Car Polisher Is Surprisingly Noisy
As per me, this is the best dual action polisher for professional use. Two power modes make it simple and straightforward to operate since you get to choose between a high-power mode ideal for paint correction and a low-power mode best suited for longer polishing hours.
A high-capacity brushless motor helps do away with all the heat, thereby improving efficiency and the cordless feature adds to the overall convenience and fun of working in large spaces.
Designed for professional use, it is obviously well-designed ergonomically and so one can expect to work for long hours with this car polisher machine without getting tired.
The battery works with other tools as well! With all the convenience and power you get from this polisher, it is priced quite high, costing almost double of many other dual action polishers. But you get a lot more convenience, quality, and heavy-duty build quality that will make it last long!
Excellent Ergonomics for Extended Usage
Two Power Modes Make It Simple to Use
Swappable Battery
Sturdy Design and Build
If you're looking out for a polisher that specializes in removing swirl marks, paint imperfections, or scratches, I'd highly recommend you consider going for Adam's Swirl Killer polisher. A pistol grip design ensures you can comfortably buff out the surface for a long time. Also complimenting is the 25 feet long power cord, making this car polisher machine ideal to use on large cars and SUVs.
This is a dual action orbital polisher that works in a random manner, large enough to tackle large surface areas and just enough to work on corners and edges. A high-power 4500 OPM motor helps remove scratches and swirl marks with ease and the same can be used to polish car paint. Who knew machine polishing could have so many advantages?
Clearly, this is one of the best dual action polishers to bring about a flawless finish on an old car since it can restore aluminum, car paint, and chrome surfaces. However, a drawback noticed by many users is the presence of vibrations that causes the speed dial to turn, consequently increasing speed without you even realizing it. Prolonged use with vibrations could cause one to experience fatigue.
Excellent Ergonomic Pistol Grip
Removes All Kinds of Car Paint Defects
Long Power Cord
Six-Inch Polishing Pads
Vibrations Can Cause Speed to Increase
Could Cause Fatigue If Used Extensively
Which Dual Action Polisher is Best for me?
Looking at the options given above, you must've realized by now that there is no single 'best dual action polisher'. There exist plenty of options available in the market but at the end of the day, it all boils down to your nature of use.
Are you someone who has no experience with dual action polishers or rotary polishers? Though rotary polishers and dual action polishers are different when it comes to function, the nature of use is similar.
Coming back to the point, this is something you need to consider if you're a beginner or if you are familiar with using a machine polisher. This would help you zero in on the best dual action polisher for yourself.
Other factors also need to be taken into account. For example, if you're someone who prefers convenience over utility then cordless polishers are the ones you need to explore, and vice versa.
You must also consider points like the budget (if you have one), the purpose of buying a car polisher (removing imperfections or polishing), and lastly, the size of your vehicle. That brings us to the next section which explains in detail the things you need to consider before buying a car polisher.
Things to Consider Before Buying a Dual Action Polisher
Before you start looking out to buy the best dual action polisher, you keep in mind certain points that would help you choose the best car polisher according to your use and preferences.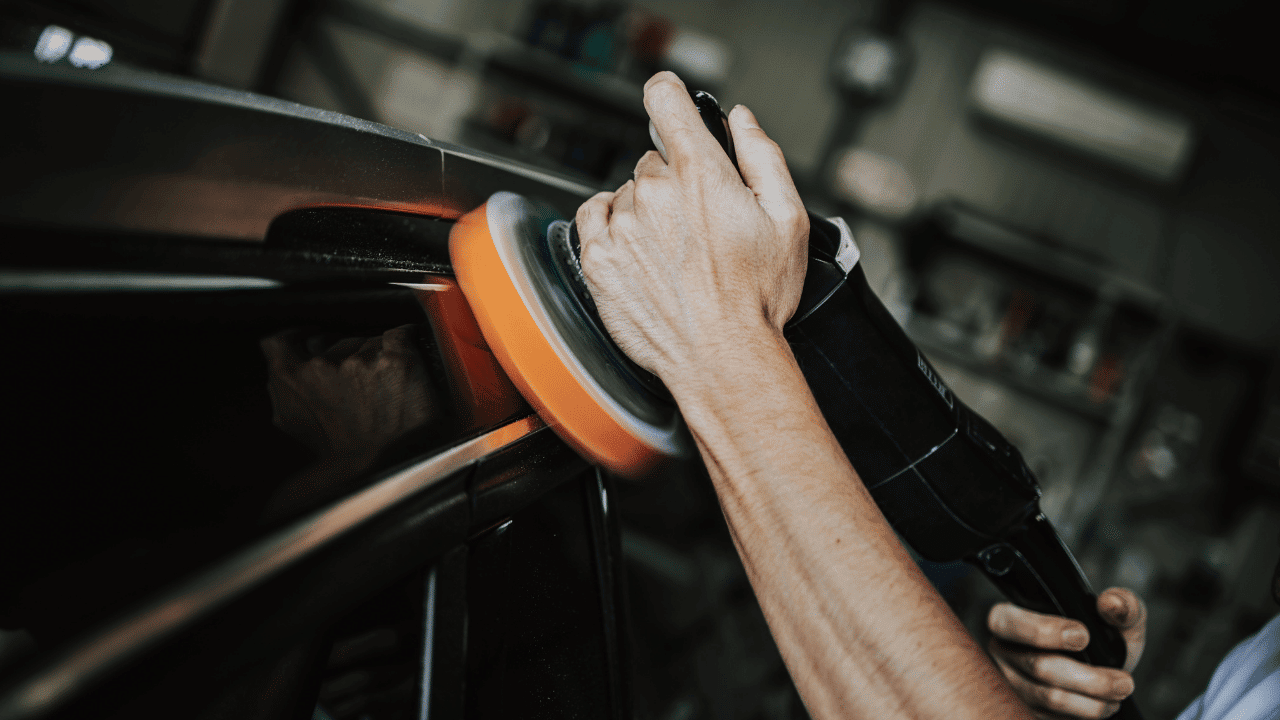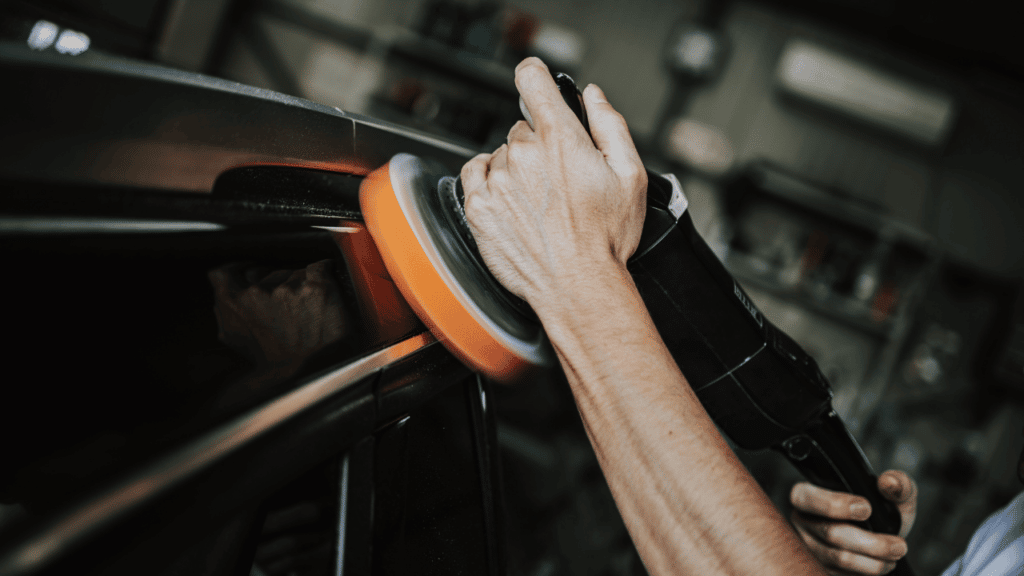 Speed
Most polishers come with a high-speed motor to help you make the most of it. High-speed DA polishers also help in performing other functions apart from polishing like the elimination of swirl marks and scratches. Ideally, you should be looking at corded polishers or non-corded polishers that operate above 2500 RPM at the least. Most car detailing workshops too employ high-speed polishers.
Speaking of speed, do consider a polisher that offers the convenience of changing the speed settings manually. A dial or switch would help you toggle between the correct RPM or OPM, thereby giving you greater control over your work. The greater the amount of control you are given to fine-tune the speed, the better the finish you would achieve on your car.
Ergonomic Grip
A grip may sound like something very unimportant and unnecessary item when it comes to choosing the right dual action polisher for you. But as you and I know that small things make a big difference, a good grip on a rotary polisher or a DA polisher could do wonders for the workflow.
Know that an effective ergonomic grip helps absorb vibrations and provides an optimum amount of cushioning to your palm. A lot of research goes into the placement of the grip and the material used on it. It is the only link between you and the car polisher so it is made keeping a specific purpose in mind.
You need to zero in on a car polisher that you would be comfortable holding for a long period of time. Is the grip large enough? Can it be adjusted in different ways? These are the questions that need to be asked when looking for the best dual action polisher.
An effective grip will reduce hand fatigue, offer more control and eventually produce a well-finished output.
Cordless or Corded Polisher?
Having a cordless polisher is a must for many users since it gives them the freedom to move about freely, especially if they are working on a large car or in a large enclosure. Be it a rotary polisher or a DA polisher, they both have cordless model options that last up to an average of 1.5 to 3 hours on a single charge.
Another advantage of a cordless polisher is that the wire doesn't interfere with your movement around the car, thereby reducing the chances of a fall. In addition, if you have other appliances that can accommodate the same battery, you can swap or share batteries with your car polisher.
Corded polishers are ideal for long usage, especially in car detailing workshops where the power demand is always present. They offer the same functionality as cordless polishers minus the freedom you get from moving around the car with ease.
Corded polishers are more advantageous when you have plenty of electrical sockets around the workspace, especially when working on small to medium-sized cars.
Price
Once you have shortlisted DA polisher models keeping in mind the above three factors, the final step is to see if any of the models suit your DA polisher budget. Explore the marketspace and you would find plenty of DA polishers that are budget-friendly, many hovering around the $150 to $200 mark.
You could even find many more that hover around the $100 mark. If they tally with what you're looking out for, it might just be the best DA polisher deal for you.
On the other hand, if you're looking out for a DA polisher that is extremely sturdy, long-lasting, and offers a lot more power with extra features and foam pads, you must be ready to spend upwards of $250 on a premium DA polisher.
Dual Action Polisher Vs Rotary Polisher
By now, you might've come across the term rotary polisher used quite casually with a dual action polisher. While many think that they're the same due to the similarities in their appearance, the fact is they aren't. They both cater to different purposes altogether.
A dual action car polisher head spins on not one but two axles at the same time. As a result, the user achieves a double rotation movement that helps cover the car's surface in an even and smooth fashion. It is for the same reason that DA polishers are considered safer and are more suited for beginners. A DA polisher also creates lesser heat and friction which makes it a preferred tool to work with.
Rotary polishers on the other hand have a single axis on which the head spins in an even circular motion. Therefore, a repetition of this circular motion at the same point on the car's surface builds up heat and friction quickly, increasing the chances of removing the clear coat itself. This tool is more effective for paint correction and is suitable for professionals who have experience working with different types of polishers.
FAQ
Are DA polishers suitable for beginners?
Absolutely! These are the best polishers to begin with since they aren't as aggressive as rotary polishers which tend to build up heat quickly. DA polishers offer more control and have more room for error. 
Is a random orbital polisher the same as a DA polisher?
Not really. They are different in the way they work. A random orbital polisher's pad rotates and oscillates randomly without a set pattern. In the case of a DA polisher, the rotation and oscillation happen in a fixed pattern.
What is the best polisher for a beginner?
Dual action polishers are best suited for beginners since they are easy to use and have much larger room for error. Despite going wrong, one can quickly correct the mistake. Many DA polishers also come with a variable speed dial for more control which in turn makes the job a lot easy for any beginner.
Can you damage paint with a DA polisher?
While the chances are less, one can damage the paint if the incorrect pad and incorrect speed are being used at the same spot on a car for a long time.
How often should you use a polisher on a car?
Ideally, you should use a polisher on your car every twelve months since that is the recommended polishing interval.
What's better orbital or rotary polisher?
An orbital polisher is any day better than a rotary polisher since it doesn't build up as much heat, therefore reducing the chances of damaging the clear coat.
What size polisher is best?
There is no single best size. However, I would recommend using a six-inch polisher for large and plain surfaces on the car and a three-inch polisher for the tiny bits and wheels.
Yes, there is a tiny bit of difference. A buffer tends to fill the gaps in the car's paint or on the clear coat to make it seem smooth and even. This is best done with a waxing compound.
Instead of filling the gaps, a polisher contains abrasives to clear the imperfections and make the surface flat. It also heals the paint and gives it a shine
What's better a buffer or a polisher?
Both processes work on removing the imperfections on a car's surface so one cannot be said better than the other. If the scratches are deeper, a buffer might be more effective. In cases where the paint is dull as a result of swirls or the absence of a clear coat, polishing would be considered best.
Does polishing damage the clear coat?
No, polishing does not damage the clear coat unless it is done incorrectly or if the wrong tools are used for the same purpose.
The Best Dual Action Polisher – Summary
To summarise it all, I've listed the best dual action polishers you can buy this year after closely considering their strong points, their USPs, and most importantly, considering the utility each model has to offer. From multiple speed control modes to the difference in ergonomics, prices, and power. They all stand out in what they have been set to offer.
I've recommended the Meguiar MT300 as the best car polisher in an overall sense since it offers maximum safety, convenience and power. A smart option for speed control, its modern torque management feature, and the fact that it can be used by amateurs and professionals makes it the best DA polisher!
Related Content: