You need the best undercarriage cleaner to clean the underside of a car to protect it from rust damage. Most people neglect the undercarriage wash of their vehicles which then leads to massive rust issues down the line.
The corrosion problem is even more prominent in Jeeps, ATVs, and SUVs, especially when they are frequently used for offroad adventures such as mud-bogging, rock crawling, Overlanding, etc., and not to mention, the notorious winter salt.
However, you can easily prevent damage and future-proof the whole undercarriage area of your vehicle before it's too late.
My top pick is the Tool Daily undercarriage cleaner extension attached to a 2500 psi gas-powered pressure washer, however, not everyone will have the same setup, so I have shortlisted the top undercarriage cleaners to clean the underside of your priced possessions.
If you already have a rust problem or you want to protect it from rust, I will let you know how you can deal with that as well.
The 7 Best Undercarriage Cleaners
Best Overall
Brand: Tool Daily
Color: Black and silver
Max allowed pressure: 4000 psi
Item Weight: 4.64 lbs
Surface Cleaning Mode: Yes
After going through a bunch of undercarriage cleaners, and checking a couple of different extensions, I would say that the Tool Daily is the overall best undercarriage cleaner of all time.
The price is just right, and you get everything you need. The biggest advantage is the swivel which is included in as an extra undercarriage pressure washer attachment. The swivel makes it much easier to maneuver as opposed to those undercarriage cleaners which do not have this swivel.
With the swivel, it's already the easiest to use on this list, however, there is a drawback linked to this extension — the wheels. The wheels attached to this extension are way too big, and it won't work if you have a car with low ride height/ground clearance.
The size of the wheels can be advantageous in case you have a vehicle with excessive ride height i.e Jeeps, SUVs, trucks, etc.
Now this product is very similar to the Ryobi undercarriage cleaner, and everyone knows how popular it is, however, Ryobi does not offer the swivel, which makes it hard to use, plus Ryobi is more expensive than the Tool Daily, so this win has to go to Tool Daily.
Now coming towards some technical analysis, there are four nozzles from which the water will be sprayed onto the undercarriage. If you have at least a 2000 psi pressure washer, the pressure will get divided among the four nozzles and each nozzle will get roughly 500 psi.
500 psi for each nozzle is a reasonable amount because you don't want a very high-pressure water stream hitting on the electrical wires lest they get damaged.
The GPM is not easy to calculate for this rig, as there are so many changes to the water stream along the whole setup. You would need to know the exact difference in the circumference of each connection along with the opening of each nozzle. However, if you have a pressure washer that is said to deliver more than 3 GPM, you will have no issues whatsoever.
Another benefit of the Tool Daily is its surface cleaner mode. if you have difficulty removing dirt from your driveway, flip the rod and you are good to go.
Pros
Inexpensive
Works with hot water and cold water
Can be used as a water broom
Good quality
Easy to use — comes with a swivel
Cons
Not suitable for lowered cars
Best Budget
Brand: M Mingle
Color: Silver and Black
Max allowed pressure: 4000 psi
Item Weight: 2.2 lbs
Surface Cleaning Mode: No
If you are looking for something which is the lightest in your pocket — this is it. It has the most classical design of all the undercarriage cleaners I have on the list and it does a great job which makes it the best bang for your buck.
Somehow the design looks exactly like the fuel injector rig that comes on a DB15 honda civic engine of the 90s, but with wheels. Well, it doesn't matter — you get the undercarriage cleaning done and the body is protected — that is the most important thing.
You get a ¼ inch quick connect to aid you in the attachment and removal process, which means it's fairly easy to use. Just pull it out, connect your hoses and blast those stains off the surfaces. Make sure the extensions are properly connected.
The M Mingle undercarriage cleaner can withstand up to 4000 psi, and with four nozzles, you will get a thousand psi on each nozzle, however, a thousand psi on each jet can damage the electrical wires on your car, so its best to regulate the pressure and not exceed 3000 psi.
Speaking of psi — it's best to have a pressure washer that can deliver more than 1500 psi, any less will only give you a mist/spray of water. Both electric and gas-powered pressure washers can work with this extension.
The wheel on this undercarriage cleaner lifts it up about 4 inches off the ground, which means if your car is having less than 4 inches of ground clearance, you will have a hard time placing it under the vehicle.
The only major downside for this undercarriage cleaner is its inability to perform as a water broom which other undercarriage cleaners are able to, thanks to the flipping mechanism given to those undercarriage cleaners.
For such a low price, it's a given that you are not getting any extension wand or an angled wand to assist in your cleaning under the vehicle. However, M Mingle also offers the extension wand (two of them) at a markup of only a cup of coffee along with a donut.
Another downside is the plasticky wheel and it won't roll as efficiently as those big tires you get on the Tool Daily.
Pros
Inexpensive
Reliable
Quick Connect
Cons
Does not function as a water broom
The height is excessive
Extra extension wands included as an option
Best for Lowered Suspension Cars
Brand: Adam's Polishes
Color: Silver and Black with Brass accent
Max allowed pressure: 5000 psi
Extension wand: Included
Swivel for easy maneuvering: Included
Surface Cleaning Mode: (kind of)
When it comes to quality products, Adam's is one of my favorites. I know the prices are a little on the higher end, but the end results of all of their products have been amazing so far.
This product has the best maneuverability and it's the easiest to use out of all the undercarriage cleaners I have gone through. The swivel makes your lower back sing praises for this undercarriage washer, you would love the pivoting coupler.
The tires on this extension are mounted on either extreme giving it a low profile — best for lowered suspension vehicles. And because you can use pressure up to 5000 psi, you can easily wash your lifted jeeps as well.
The only major downside for Adam's undercarriage cleaner is the price point. Only if were a bit cheaper, I would have put it on the overall best for this list.
With the only disadvantage being the price point, this is the best undercarriage cleaner to clean underside of a car — even if it's slammed on the ground.
Pros
Sleek design — perfect for lowered vehicles
High-pressure output — perfect for lifted vehicles
High Quality
Easy to use
Swivel included
Can be used as a water broom
Cons
A little on the expensive side
Most Popular
Brand: Ryobi Pressure Washers
Color: Black and Grey
Max allowed pressure: 3300 psi
Item Weight: 2.29 pounds
Surface Cleaning Mode: Yes
This is the undercarriage cleaner that you will find at every other home depot. The prices vary from place to place — the retailers set the price accordingly in different areas.
This tool is marketed as an extension for a gas-powered pressure washer, however, you can use it with electric pressure washers as well. For the Karcher ones, you might also need an adaptor, here is the link to the exact one you would need.
The final price would go up for this particular undercarriage cleaner since it does not include any extension wand. Plus, if you own a Karcher pressure washer, you would have to spend more on the adaptor.
The benefit of the Ryobi is its ability to perform the water broom task as well. Ryobi makes good quality products, the only reason why this is not ranked as the overall best, is the price point. You can get about the same results if not better with the Tool Daily.
Another noticeable detail on this undercarriage cleaner is the number of nozzles. Normally in this type of undercarriage cleaner, there are four nozzles, however, in the case of Ryobi, we only have three nozzles, which can either be beneficial or utterly useless.
More nozzles mean you have a larger surface area that you can clean, however, it can also affect the amount of pressure utilized by each nozzle.
With a lower number of nozzles, you get more pressure per nozzle but less surface area and with a higher number, you get low pressure but more surface area to clean, which means you need to have a high psi pressure washer to clean a larger surface area.
Pros
Widely available
Can work with 1700 psi
Works as a water broom
Cons
Does not include extension wands
The surface cleaner extension is short
Best for Lifted Jeeps And Industrial Vehicles
Brand: Mosmatic Hurricane 520
Inlet: ⅜ inch NPTF
Color: Silver
Max allowed pressure: 4000 psi
Minimum Ground Clearance: 6.5 inches
Item Weight: 33 pounds
Surface Cleaning Mode: Yes
Mosmatic offers a huge variety of pressure washer accessories for industrial purposes. The smallest undercarriage cleaner offered is the Hurricane 520 (HUR-520), which is already insanely powerful.
When it comes to customizability — this product is at the top. It is so customizable that you can not order just like that, you have to fill in the application for everything you need, and then you will receive the price quote accordingly, which makes Mosmatic the Rolls Royce of the pressure washer industry.
It gives you the best instruction manuals, which are so hard to find these days for automotive products. It has hundreds of power washer accessories which ensures deep cleaning. You can also get industrial-grade hot water pressure washers from Mosmetic.
Mosmetic Undercarriage Cleaner is the undercarriage cleaner for trucks, crossovers, buses, boats, RVs, Jeeps, trailers, bulldozers, excavators, tractors, etc., — anything huge with wheels and tires, this undercarriage cleaner is the way to go. Many industrial car wash facilities make use of this tool in their everyday routine.
The biggest disadvantage will be its price point. If money is not a problem and you have a bunch of heavy machinery, the Mosmetic Hurricane is your best option.
Or if you are like me who has a fleet of cars that need regular washing and hates those commercial car washes, and have lots of extra cash unlike me, this pressure washer will make the cleaning process so much easier.
Pros
Best results
High pressure
Excellent Quality
Durable
High Customizability
Cons
Premium Quality
Brand: SUTTNER
Color: Silver & Black
Max allowed pressure: 3000 psi
Max allowed GPM: 10 GPM
Inlet: ⅜ inch FPT
Trigger Spray Handle: Included
Pressure washer wand: Included
Surface Cleaning Mode: Yes
If you are the kind of person who would only buy top-shelf products, this one's for you. When it comes to the premium price tag, it has it. When it comes to quality, it has lots of it.
The only downside is the maneuverability which is not that great compared to other much cheaper options. However, the cheaper options will not give you the pressure washer gun which is included in Suttner.
The design element is very unique to this undercarriage cleaner. It looks nothing like its competitors or cheaper counterparts. This is one of a kind pressure washer extension that you can get — by spending lots of dollars.
The size is small enough to fit under lowered vehicles and the pressure is strong enough to carry out deep cleaning of the undercarriage area of Jeeps, crossovers, RVs, etc. furthermore, you can also use this with your hot water pressure washer – 300 degrees Fahrenheit, making it very convenient.
The extension wand also gets a unique design, but some say that the design is not that practical and the slightest mishandling can lead to scratches on the paint job.
It is one of those products that will require thorough questioning with the seller, as it happens to be the most varying in price. So make sure you do the maths before ordering the Suttner undercarriage cleaner for your power washer.
Pros
High Quality
Includes pressure washer gun
Easy to use
Cons
Expensive
The design is somewhat controversial
Varying price
Honorable Mention
Brand: Twinkle Star
Color: Silver
Item weight: 3.91 lbs
Max allowed pressure: 4000 psi
Surface Cleaning Mode: No
Twinkle Star undercarriage cleaner is the diamond in the rough, the price is very competitive and you also get two extension wands with it, which is why it deserves an honorable mention.
A unique aspect of this particular tool is the extra 3 inches of length on the cleaner itself, which means it covers an extra 3 inches of area compared to every other similar product on the market.
It comes with a quick connect ¼ inch connector, and if you have a Sun joe electric pressure washer, it might not fit if you don't have the right adaptor. For any other type of electric pressure washer, you can search for ¼ inch quick connects adaptor with its name, and you will find the one you need.
The maximum psi rating on this undercarriage cleaner is 4000 psi, and the minimum required is 1500 psi. The best results will be around 2500–3000 psi. It's best not to exceed 3000 psi to prevent any damage to the electrical wires underneath.
The only major drawback is the height of this undercarriage cleaner, you won't be able to use it with lowered suspension cars — less than 4 inches of ground clearance will be a no go for this product.
Another drawback is the absence of a swivel on the extension wand, which makes it hard to maneuver under the vehicle.
Pros
Inexpensive
Includes two extension wands
Comes with quick connect
Cons
What to consider when buying an undercarriage cleaner?
You need to know a couple of things before buying an undercarriage cleaner. And there are also some nuances that you need to know after buying an undercarriage cleaner.
It makes a mess if used inside the garage, it's best to use it outside in an open space.
Your pressure washer is important when you need the best results in removing dirt and grime from underneath your car.
Commercial car wash facilities are not that great as they use high-pH chemicals that do more damage than good in the long run.
If you do a lot of offroad adventures, and you don't have access to a forklift or a ramp, you need this to clean those hard-to-reach surfaces underneath your cars.
In winter, you get road salt debris which destroys the undercarriage of your cars if not properly washed in time, for which the undercarriage cleaner comes in.
The water source should have a filter in place to prevent clogging the nozzles.
Using a cleaner (liquid spray) is not essential for cleaning, however, if you have loads of dirt and grime mixed with oils/lubricants, you might have to buy a degreaser as well.
it's recommended by the majority of sellers not to run detergents through the undercarriage washer extension. You should use a separate foam canon for that purpose.
Should you clean your undercarriage?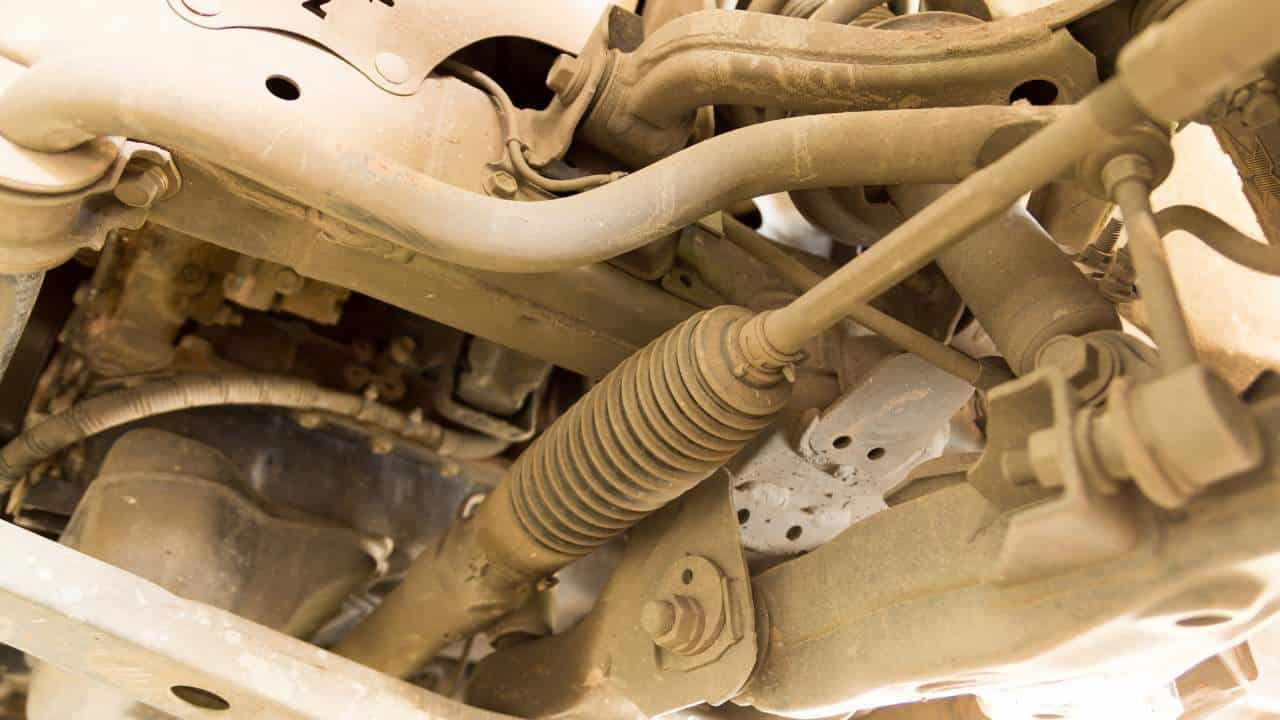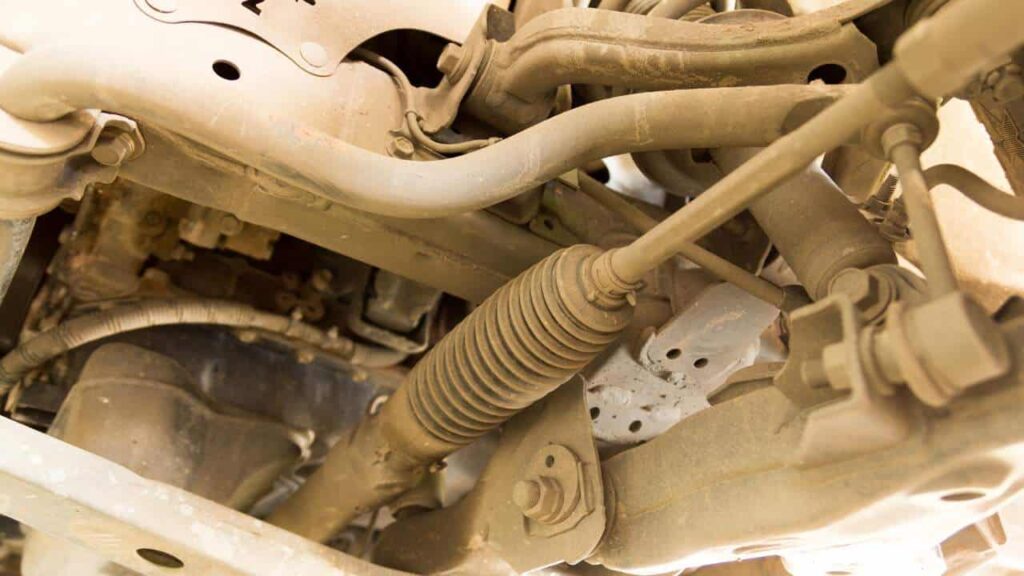 Yes, you should 100% clean your undercarriage, and failing to do so will lead to corrosion, which in turn also affects the ground wires of your vehicle, which means you will also start facing electrical issues in your vehicle if the dirt and grime (which contains moisture) stays on your vehicle for an extended period of time.
4Fe + 3O2 + 6H2O → 4Fe(OH)3
This is how it happens, and it takes about 4-5 days to complete. You can see how much dirt and grime are present on wheel wells and then you can decide for yourself how long you have until the next undercarriage cleaning.
I have seen a Chevy Colorado with a 4×4 system malfunction, and the culprit was a single ground wire which is right next to the driver's side undercarriage area. The undercarriage cleaner works wonders in keeping surfaces corrosion free.
You can use an undercoat to help prevent moisture from getting to the metal, it will give you a longer window until the rusting process starts. Make sure the undercoat is nonabrasive and does not affect the components that are meant to be greased. And most importantly keep your car clean.
The degreasers should not come in contact with moving suspension components that are meant to be greased – to keep them functioning smoothly, which is why you need the best undercarriage cleaner to clean the underside of a car.
Types of undercarriage cleaners
There are multiple types of undercarriage cleaners available in the market today. You have those extensions which you can attach to your pressure washer and then there are those liquid products to make foam and get rid of all the grease and dirt from your vehicle.
For the vehicle's undercarriage wash, you have:
Undercarriage Sprayer Extensions (straight bar, Round with spinning action)
Undercarriage Car Wash Cleaner (Soapy liquids and Degreasers)
For the preventive measures you have
Undercoat (fluid film)
Grease (for the suspension joints)
Car Spray Paint (Jeep owners will understand)
WD-40
Benefits of using undercarriage cleaner
There are numerous advantages to having an undercarriage cleaner, in fact, it's disadvantageous not to have an undercarriage washing unit.
Here are a couple of advantages you get from owning an undercarriage cleaner extension along with an undercarriage sprayer (cleaning liquids.)
The rust-preventive coating will remain intact for years to come
You won't have those electrical problems that are caused by those corroded ground wires under the vehicle.
Your car will look as good as new
The suspension components will move freely, and you will feel the ride getting smoother if it were previously clogged with gunk and debris.
Oil leakages will be easier to identify, which means you will be able to diagnose a potential problem before it becomes something extremely expensive to repair.
How often should I wash my undercarriage?
Cleaning the undercarriage is essential when you want to avoid having rusted chassis components and also prevent electrical issues, so the number of times you need to wash the undercarriage boils down to the amount of dirt and debris collected under your vehicle.
Every weekend when there is road salt on the roads — give your vehicle a thorough car wash with an undercarriage car wash cleaner.
Once you are finished with your offroad adventures
Once every month if you are driving your car in fairly dry conditions with rain showers every now and then.
Twice a year if you are only driving your car in nice dry weather (show car or track build) and it stays in the garage most of the time.
Final Thoughts
All of these undercarriage pressure washer accessories are going to help you in removing dirt, tough stains, mud, salt, etc., however, pressure washers (the power unit) play a vital role in the end result.
After tons of research, it's crystal clear that commercial car wash places are not good for your cars, and it's best to own undercarriage pressure washers for pressure washing the vehicle's underside by yourself.
A 2500 psi pressure washer coupled with Adam's extension would work wonders, however, if you feel it's a little on the expensive side, you can always rely on the Tool Daily — which can even work on a truck, making it the best undercarriage cleaner to clean the underside of a car.
Related Content: