Car decals have become a vital form of self-expression and their uses range from car decoration and design to branding and promotion for businesses. One can get their hands on good quality vinyl today to express what they want without much struggle. But, how do you know which is the best Cricut vinyl for your car decals?
There's a wide range of options to choose from and to be honest, it can get quite confusing when you have to make the perfect choice without having the resources or time to experiment.
That's where we come in because we've tried and tested a ton of Cricut vinyl for car decals and we're listing the best ones you should consider depending on your budget, quality expectation, purpose, etc.
To begin with, we're telling you straightaway the best overall Cricut vinyl for car decals is the 'Oracal 651 rolls vinyl for Cricut' known for its versatility, practicality, thickness, and price point. The product comes with all the features that one would mostly look for. But, more on this later. (1)
Before we move on though, we thought we'd clear the air on the word Cricut which many people think of as a type of car decal or sticker material, which it isn't.
Cricut actually refers to the machine that cuts the vinyl in the desired design or shapes for car decals. People making car decals often use a Cricut machine that is pretty accurate at cutting the stickers before they are stuck onto the car.
Best Cricut Vinyls for Car Decals
Here's the list of the best Cricut vinyl you can buy for your car decals:
1. Oracal 651 Craft Vinyl Rolls – Best Overall
2. HTVRONT Permanent Adhesive Vinyl – Best Value For Money
3. Oracal 651 Vinyl Starter Kit Bundle – Best Vinyl Bundle kit
4. Oracal 631 Removable Vinyl Rolls – Best Removable Vinyl
5. Cricut permanent premium vinyl – Best Professional Vinyl
Best Overall
Best-in-Class Cricut Vinyl for car decals
Easy to work with
Suits beginners and experts
One roll can be used on multiple surfaces
The Oracal 651 Vinyl roll is probably the best overall permanent vinyl car decal you can buy considering the number of boxes it ticks. Oracal has made and marketed this permanent vinyl in a way that simply suits most users, without having to pay a huge amount.
It is compatible with most flat surfaces like metal, glass, wood, and even walls! With a thickness of just 0.6mm, it becomes easy to peel and use as car stickers. The packaging is attractive as it comes with a 2.5- inch diameter core that makes it easier to store or transport.
Buyers also get the option of choosing the length of the rolls since the Oracal 651 comes in various sizes- 5-inch, 10-inch, 25-inch, and 50-inch rolls. But if you're looking for long rolls, they even sell a 600-inch roll!
The Vinyl ranks high on ease of use since even a beginner can do a neat job with it. The roll also comes with a wide number of color options, thus making it highly desirable for individuals who are looking for a very specific color code for their car stickers.
Obviously, this vinyl for car decals is compatible with Cricut machines as well as craft cutters made by Pazzles, Inspirations, Craft Robo, Graphtec, QuicKutz, Silhouette, and Xyron. If you're thinking about how easy or difficult it would be to remove the vinyl after it is stuck, be rest assured that removal is an easy process that would do no harm to your car's paint job!
Pros:
Available in a wide range of colors
Versatile vinyl roll can be used on various types of surfaces
Multiple sizes are on offer depending on the amount of vinyl required
Easy to use, store or transport
Permanent vinyl lasts for a very long period
Apart from Cricut, it is compatible with various craft cutters
Removal of the vinyl is easy, adhesive does not stick to the car's paint
Cons:
You get only a single color per roll
Best Value For Money
Best Cricut vinyl for someone with no experience
Waterproof and all-weather proof
Ranks high on the value-for-money factor
Long roll sizes are ideal for repeated projects
Plastic paper backing saves time and effort
If you're looking at something that is less expensive but practical and tough to work with, we'd suggest you look no further than HTVRONT Cricut permanent vinyl for your car decals. It is quite basic to look at but it does the job just right.
It is waterproof and all-weather proof due to which, the manufacturer claims that the vinyl lasts for three years in outdoor conditions and five years in indoor conditions. Taking into account the price at which this vinyl is offered, it is quite an impressive claim.
Not only that, the permanent vinyl comes as a generous 40-foot-long roll so even a first-time user's silly mistakes could be pardoned without much worry.A plastic-based backing as compared to the conventional backing makes the HTVRONT vinyl an easy-to-use product for someone with no nails, thus saving time.
However, with a low price tag, one would expect a few downsides. But these are not to do with the product itself which is excellent in the way it works and the adhesive is paint-friendly. The downside of this Cricut permanent vinyl is that it is available in limited color options- a point that could make someone overlook the product if they don't find the right shade.
Pros:
Offers great value for money
It is compatible with the Cricut machine
It is all-weatherproof
Plastic backing makes it easier to work with
Beginner-friendly
Cons:
Limited colors to choose from
Best Vinyl Bundle Kit
Best-in-class Cricut Vinyl for car decals
Ideal for creative projects that demand multi-color application
Suits beginners and experts
One roll can be used on multiple surfaces
Scratch and abrasion-resistant vinyl
If you're someone looking out to do something creative with vinyl car decals on your car, the Oracal 651 Vinyl Starter Kit Bundle should set things right since it offers vinyl for car decals in a variety of brilliant colors such as red, blue, pink, black yellow and many others.
You get the freedom to do something out of the box and creative through this kit that doesn't cost that much. It would cost you a lot more if you were to purchase all the colors individually and not as a bundle.
The kit comes with six-twelve inches by five feet rolls of the Oracal 651 Vinyl Roll we mentioned as the best overall vinyl for car decals. So you could call this the best overall vinyl for car decals bundle kit that offers the best of everything that you could expect from Cricut vinyl.
In addition to the advantages listed earlier for the Oracal 651 Cricut vinyl, this permanent vinyl is also scratch and abrasion resistant which adds to the practicality of this already practical product. What is even better is that you even get a detailer squeegee and replaceable black safety edge decals in the bundle!
Pros:
Offers great scratch and abrasion resistance
A wide array of colors offers more choices to experiment with
The bundle comes with all features of the Oracal 651 Cricut Vinyl- the best on our list
A detailer squeegee and replaceable black safety edge decals are included in the bundle
Cons:
Some users may find the adhesive to be a little tough while removing the car decals.
Best Removable Vinyl
This is one of the best removable vinyl decals for cars
Ideal for yearly promotional campaigns
Convenient to use and easy to remove
Wide range of sizes to choose from
Oracal 631 Cricut removable vinyl roll is the best vinyl for anyone looking to add decals to their car for a short period of time. In case you want to use your car for a promotion campaign or, if you want to experiment with the look of your car, a removable decal would be a pragmatic, economical, and hassle-free approach.
Unlike permanent adhesive vinyl or heat transfer vinyl which is difficult to peel off once used, a removable Cricut vinyl can easily come off in a matter of seconds. This is an easy-to-use vinyl for car decals and despite it having a pretty strong solvent-based adhesive, it sticks firmly to any flat surface until it is time to remove it.
What you get with the vinyl roll is a squeegee that makes life a lot simpler when applying the decals. You also get a wide range of shades to choose from that come in different lengths of 120, 300, 360, and 600 inches!
Pros:
Simple to apply and remove
The package includes an applicator squeegee
The silicone-coated backing paper offers excellent release capability
A wide range of shades and sizes are available
Cons:
Not as strong as heat transfer vinyl, so may peel off earlier than expected
Best Professional Vinyl
The vinyl is purpose-built for car detail professionals
The vinyl surface feels premium and robust
Despite the high strength, it is easy to cut
Ideal for designs that are intricate and require a high level of accuracy
The bubble-free application gets the job done faster
If you're into a Cricut printable vinyl business or have a car body shop that deals with vinyl decals, the Cricut Permanent Premium Vinyl is a must-have product since it offers that premium finish and strength that one looks for in a perfect vinyl.
People who get their car decals done at detailing shops are quite pedantic about the quality of vehicle decals being used on their cars. This particular vinyl is easy to cut through using cutters or a Cricut machine, especially on designs that are complex and intricate. Despite being a delicate process, you can do the job more quickly and with more precision, thanks to the premium finish of this vinyl.
The application of Cricut vinyl decals is bubble-free. A strong adhesive makes this the best vinyl for car decals since they are exposed to a wide range of temperatures under rain or direct sunlight. Even under rough usage, the sticker will tend to hold up well for a few years. A wide range of color options is available to choose from.
Pros:
Works well with different Cricut tools
Strong vinyl adhesive can make it hold for a few years
Simple to use due to weeding and smooth cut
Straightforward, bubble-free application
Cons:
Users have reported certain discrepancies in the correct color shade
Types of Vinyls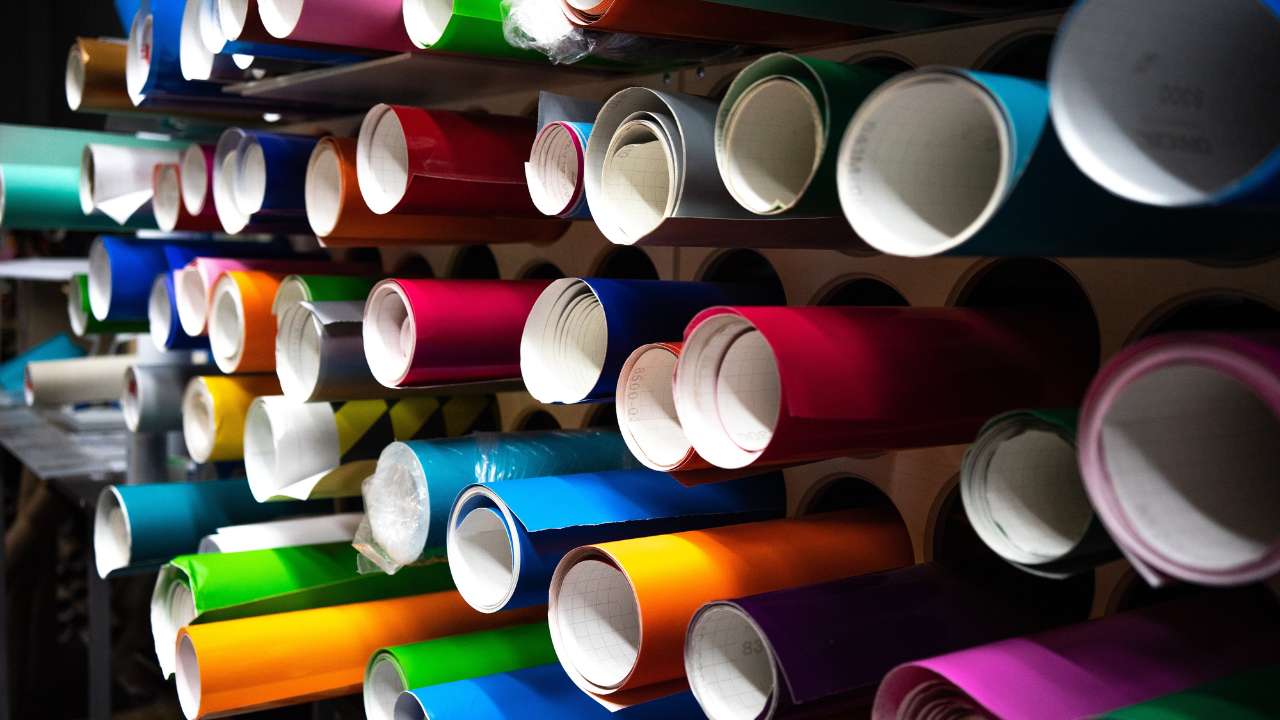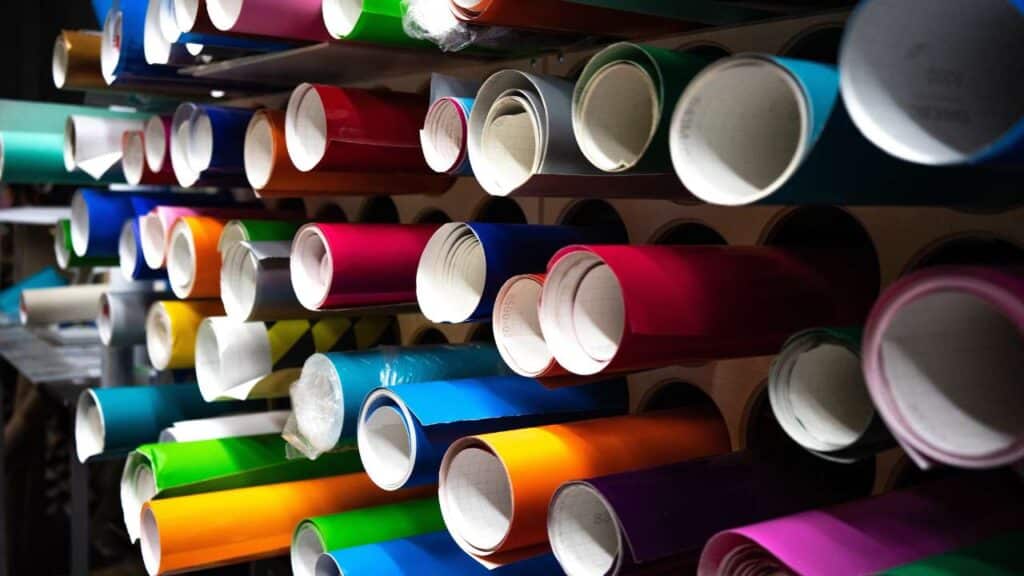 Removable Vinyl
The first type of vinyl is removable vinyl which is less strong and less durable than permanent vinyl. Its application makes more sense in indoor settings where the variation in temperature is not extreme.
The adhesive used too has just enough strength to hold on for 1-3 years. If used outdoors, it can last for a few months. An upside to this is that the adhesive won't hold on firmly to the car's paint so there are fewer chances of the paint being damaged.
Permanent Vinyl
Permanent vinyl is meant for outdoor use since it is a lot stronger and is able to withstand extreme temperatures. Not only is it water resistant and UV resistant but it is also waterproof so one need not worry about it peeling off early.
Use it indoors or outdoors, the permanent adhesive will bond to the car's paint for many years and hence, this type is considered to be the best vinyl for car decals. However, its application on a car must be done carefully since it has the ability to damage car paint if removed early. (2)
4 Factors to Consider When Buying a Vinyl
When buying the best vinyl for a car, there are a few points one must consider in order to make the right buying decision.
Size of the Vinyl
You must take into the Cricut or plotter you have when choosing the size of the vinyl, apart from the consideration of quantity you will need for your project. Choose the size that is a little longer than the decals you would need. Also, a bigger size would also be cheaper in the long run!
Cost
You must ensure that the type of vinyl you're buying for car decals must fetch enough value for the money you would be paying. Based on the use and quality you intend to have, keep a budget aside after comparing multiple Cricut car decals before heading out to buy. In addition, look for vinyl bundle packs or products where you get a squeegee with the roll.
Ease Of Use
Does the vinyl preserve its shape when being stored? Is the backing paper good enough to help you peel the vinyl faster? Would it be easy to cut the vinyl using the tools you have in hand? These are some of the questions you need to ask yourself when choosing the best vinyl for car decals.
Strength
This point goes hand in hand with the cost and ease of use factors since they are interconnected. A good quality vinyl would be slightly more expensive than the rest but you would also get a superior quality. Ensure that the vinyl you are opting for is waterproof or water-resistant, and has enough UV protection. This will improve the product's longevity.
FAQ
Do you use permanent or removable vinyl for decals?
Ideally for car decals, it is best to use permanent adhesive vinyl. Permanent vinyl has a stronger adhesive and can withstand the outdoor environment for a long time.
What is the best permanent vinyl for car decals?
The Oracal 651 Craft Vinyl is the best permanent vinyl for car decals. As mentioned earlier, it is the best overall Cricut vinyl that ticks all the boxes one would look for and, it provides a good bang for the buck!
Can you use a Cricut to make vinyl car decals?
Absolutely! A Cricut machine or cutter would be ideal to make vinyl car decals.
Can you use heat transfer vinyl on cars?
It is not advisable to use heat transfer vinyl or cars since it can be used on garments and fabrics only.
How long does permanent vinyl last on a car?
A good quality permanent vinyl should last 3-5 years.
How long will removable vinyl last on a car?
The best ones last up to 3 years.
Does permanent vinyl come off cars?
Unless it has been present for several years and unless enough force hasn't been applied, it is unlikely for permanent vinyl to come off cars.
Summary
Considering all that we've said until now and despite the number of options available in the market, choosing the best vinyl for car decals shouldn't be a challenge if you are particular about the type, quality, quantity, color, and cost of the vinyl. These pointers are enough for you to determine what you should be looking for.
When it finally comes to choosing the best brand, do keep a note of the factors we've mentioned and the brands we have suggested. There's no doubt that the Oracal 651 Craft Vinyl roll is the best overall as it offers an abundance of features for a steal. I'm sure that a majority of your reading this would mostly zero in on that one and probably order again after trying it out.
The other four mentioned Cricut vinyl products also offer the best of all worlds but they are more specific in their own ways when compared to the Oracal 651.
If you have a tight budget- the HTVRONT Permanent Adhesive Vinyl would be the best one for you. If you're looking for more colors in a bundle, the Oracal 651 Vinyl Starter Kit Bundle is the one for you. Speaking of removable vinyl- the Oracal 631 Removable Vinyl Roll is the best. Lastly, if you're a professional or you prefer premium quality vinyl car decals- the Cricut permanent premium vinyl is the one to go for!