There are several applications where powder coating would trump paint application and for the same reason, we are listing the best powder coating guns. Whether you're an occasional DIY person or a professional workshop owner, you'll know the best powder coating guns to buy this year!
After careful analysis and testing, we've come to the conclusion that the Chicago Electric Power Tools Portable Powder Coating System with a powder coating gun is the best of the lot.
Out of all the advantages and the features it sports, what appealed to us most is its robust design that provides confidence for rough use and a highly efficient working mechanism that offers a smooth and spotless finish.
The 4 Best Powder Coating Guns
Pressure of 10-30 PSI
Ideal for beginners and professionals
Easy to operate and maintain
This powder coating gun from Chicago Tools is the go-to product for most powder coating needs. From a beginner to a professional working in a workshop, this gun can perform almost all the tasks! Its durable, versatile, and efficient nature ensures it creates a smooth finish on almost any metal.
Speaking of the gun's ergonomics, it is fairly easy to powder coat using both hands on the handle while one leg can be used to operate the switch. One can even use this powder coating gun when there is a heightened workload. You can get things done quickly and with great accuracy.
The Pressure output varies from 10 to 30 PSI. Another advantage is that it isn't too heavy on the pocket and the system demands little to no maintenance. This is a great all-rounder powder coating gun to get your hands on in the market!
PROS:
Ideal all-in-one powder coating gun
Suits beginners and professionals
Long cable length offers convenience
Additional accessories like sealing gasket moisture separator, and spare fuse included
Robust powder coating equipment that required little to nil maintenance
CONS:
Some users have reported that the equipment does not match professional standards
Easy to operate, clean, and store
Flow adjustment knob for full control
10 feet power cord for versatility
Compatible with multiple pigments
Can be used on different types of surfaces
This powder coating gun from Eastwood is the best gun you can get your hands on for multiple reasons, especially if you're someone who likes to indulge in DIY projects without wanting to break the bank.
The equipment is extremely simple and uncomplicated. There are no pedals or box controllers to operate the powder coating gun. You can gain complete control of your powder coating project by only adjusting a knob on the gun that adjusts the flow and thickness of the powder.
Not only is this a factor contributing to its ease of use feature. A 10-feet power cord would let you reach quite far which is highly convenient if you're working on large objects like cars or trucks.
The Eastwood powder coating gun can be used to shoot and powder or pigment color- be it metallic pigments, textured, or chrome pigments. Adding to its versatility, one can literally use it on any type of surface- glass, wood, fiber, metal, or any other that you can name.
We would recommend this gun to small business owners, household managers, and hobbyists who would one an all-in-one powder coating gun but only limited to basic or medium-intensity applications.
Of course, one cannot expect this to work like an industrial powder coating gun but you still get a lot of bang for the buck you pay!
Pros:
Offers great value for money
Uncomplicated workflow, thanks to the flow control knob
Highly versatile and easy to use
One powder coating gun that works on multiple types of surfaces
Will cater easily to basic or medium-intensity workflows
Cons:
Not recommended for high-intensity professional applications
High-grade stainless steel construction
45L powder bucket capacity for uninterrupted operation
A full-fledged powder coating system for professional needs
Swappable nozzles for different operations
Can be used to spray on different kinds and shapes of surfaces
The WX-958 Powder Coating Machine and Coating from Mophorn is a high-precision industrial powder coating equipment. The brand is a powerful market player that specializes in the production of industrial tools and powder coating guns.
The Mophorn powder coating machine offers the best output that one could ask for. It offers all the settings and tools to execute any kind of project- be it a Sunday DIY powder coat your barn door or, it could even be used by a shipbuilding company to powder coat a ship!
Built of stainless steel, this study electrostatic powder coating machine offers the convenience of adjusting powder-air flow while the rinsing air feature helps to keep the machine clean.
A powerful powder coating gun offers a smooth and consistent electrostatic spraying effect. It is also enabled with a powder-saving effect and with different nozzles, one can choose to spray between diffusion or fan-shaped coatings. One can also adjust the spraying distance by switching between nozzles.
The Mophorn powder coating machine sports a 45L high-quality stainless steel powder bucket that aids in having an uninterrupted workflow. A sturdy overall construction helps to carry out high-load projects while the machine itself is supported by four wheels that make it extremely easy to move it around and spray large projects.
This is one of the best industrial powder coating guns one can get their hands on because it is too specific and technical in nature. For example- for manual electrostatic powder coating, there exists an oil-water separator. A powder pump and pressure regulator sport a superior atomization effect.
The Mophorn powder coating machine helps achieve high-quality and accurate powder coating results which a professional business would usually employ. Obviously, this piece of equipment would cater to the needs of hobbyists and DIY enthusiasts too, but in my opinion, it would be too expensive to invest for such a purpose.
PROS:
Excellent powder coating system for professional or industrial use
Highly convenient to move around and spray
Supports electrostatic operation
45L powder bucket helps maintain economies of scale
Compatible with almost all types of shapes and surfaces
High-speed spraying of 16 ounces/minute helps reduce time and effort
CONS:
Not recommended for hobbyists and DIY enthusiasts
Sturdy construction
100KV Adjustable w/ LED display
Caters to industrial powder coating needs
Swappable nozzles for different operations
Can be used to spray on different kinds of surfaces
If you're looking among the best professional powder coating guns for the ideal powder coating gun that caters to professional needs and at the same time, isn't an overkill for DIY projects, then we suggest you look no further than the Hyper Smooth Powder Coating System that comes with its own powder coating gun.
This powder coating system can take up so much load that it can easily handle not one coat, not two coats but three or more coats! There's quite a lot in the package actually that makes this a pretty potent package. And yes, a grounding cable is also included!
Other accessories included are additional nozzles- two tips and two nozzles What adds to its industrial-friendliness is an adjustable dual voltage capable of ranging from 0-100 kV.
However, one doesn't have to be a nerd to operate the system or its power coating gun. Just use the adjustment knob and alter the power supply to your needs. There is also an air supply regulation knob that lets you select the desired air output. This helps in maintaining a slow or fast spray rate for various kinds of spraying jobs.
A helpful pressure gauge on the powder coating system helps maintain the right kind of pressure and eliminates any guesswork, thereby completely removing the chances of possible errors.
The biggest advantage of the Hyper Smooth Powder Coating gun and system is its user-friendliness which helps professionals and beginners to use the tool on a variety of surfaces on a professional or domestic scale. On an industrial scale, this is a highly cost-effective tool that gives a considerable amount of return on the investment made.
Look at it from a householder's perspective and the powder coating gun might look a bit steep in terms of price. But, we can surely say that this unit isn't an overkill considering what you get in return.
PROS:
Power of up to 100 kV
Supports electrostatic operation
Offers decent value for money
Compatible with almost all types of surfaces
User-friendly design
CONS:
May fall short to spray quickly in cases where the load is too high
Build quality could've been better
Factors to Consider When Buying Powder Coating Guns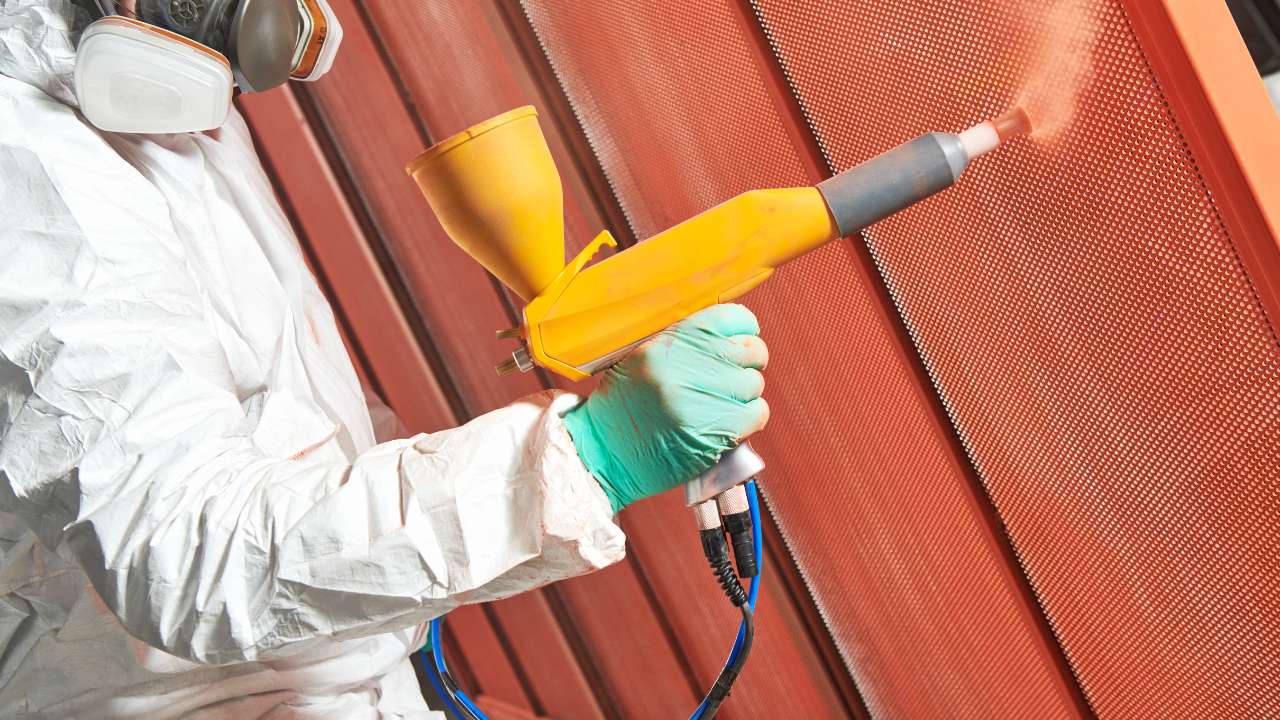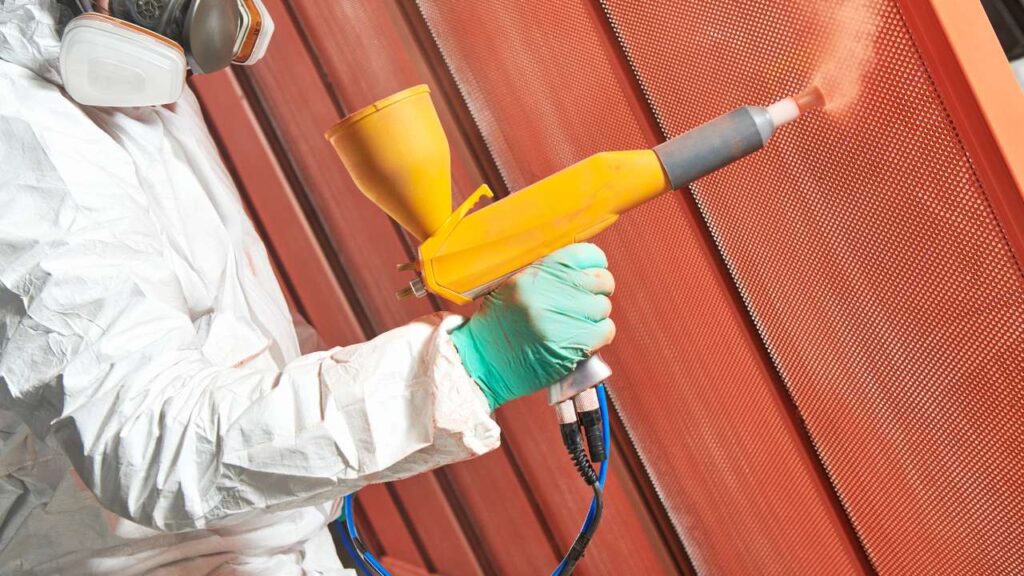 When choosing among the best powder coating guns, there are quite a few factors to take into consideration when you're trying to make a choice that is best for you. Here are a few areas that you need to think about to make the right decision.
Nature of Operation
Is this a DIY project? How often will you use the power coating gun? Are you buying a powder coating gun to spray multiple parts on an industrial scale? If yes, then what would the frequency of such work look like? Are you going to powder-coat painted surfaces or surfaces that are already powder coated?
These are the questions one needs to brainstorm on before heading out to buy the ideal powder coating gun. Answering such questions would help identify the kind of machine you would require and ultimately the type of powder coating gun you would need based on your activity and workload.
If your requirement demands you to powder coat a lot, then it would be best to choose a powder coating gun and system with a high spray rate and a high transfer efficiency. This would help you save time cost on the long run, even if your initial investment has been high.
On the other hand, if your requirement is for occasional household DIY activity, you should choose a powder coating gun that is powerful enough for a variety of uses but isn't expensive equipment. But do ensure to choose a gun that is robust and long-lasting.
Ease of Use, Cleaning, and Storage
Many a time, people ignore this important factor while choosing the best powder coating gun as a result of prioritizing other factors like cost and quality. This factor however is equally important since it decides how easily and efficiently you would be able to powder coat.
In addition, the powder coating gun must also be made of a material that isn't prone to corrosion when washed with water and stored for a long time. After you've fixed a budget for buying a powder coating gun, we'd recommend you choose a gun that is the simplest to use, clean, and store.
Even if you're someone who likes complicated powder coating guns, we'd suggest you find means or ways to make the spraying and cleaning process simpler since it would save you a lot of time and human resource costs in the long run.
Transfer Efficiency
This is a point that not many talk about but it does carry enough weight when choosing the right gun among the best powder coating guns. Transfer Efficiency in simple words is the way in which dry powder/ powder particles are transferred onto the surface of an object.
Powder coating guns with a low transfer efficiency tend to waste powder or material since they aren't efficient enough to shoot powder using the right amount of air pressure, thereby causing the material to drop down onto the floor instead.
Consider choosing a powder coating gun that has a high transfer efficiency. They shoot powder at a high speed and therefore, wastage of material is minimized. This factor is one of the most important ones to consider if you're going to be using the powder coating gun for industrial or professional purposes. A professional gun must have a high transfer efficiency.
Spray Rate
The spray rate or speed is the amount of space covered by the powder coating gun in a minute. Another way of measuring the spray rate is in terms of grams. That is the weight of the powder that the coating gun can spray in one minute.
While a lot of non-industrial applications may not require this criterion to be met, however, time is money, and time saved can always be utilized to produce more.
Fast powder coating guns with a high spray rate help powder coat large projects in less time when compared to powder coating guns that take a lot longer. Hence, they are a lot more profitable for business houses. We strongly recommend that business entities buy powder coating guns with a high spray rate.
Reliability
This is a widely known factor but often gets neglected by buyers due to a high-cost factor. It is of utmost importance that you choose a powder coating gun that is durable and sturdy. Always check to see if the powder coating gun is made of steel or any other metal as it is often found to stand the test of time.
The best powder coating gun is that which proves to be a one-time investment in the long run. Such guns prove to be efficient, powerful workhorses, and extremely durable. Obviously, such equipment does come at a cost but we say this out of experience that they are worth every single penny.
Other powder coating guns that are made of any material other than steel or metal often tend to give up sooner, especially when they are used to apply multiple coats in a single day. In an industrial setup, such guns go bust quite early, thus resulting in recurring investment and workflow interruptions.
Power Output Voltage
The kV output of a powder gun signifies its voltage output. In other words, it is the amount of voltage needed to charge the spray particles being emitted from the powder gun. The particles are charged so that they stick to the surface they are being sprayed upon.
As a result, different types of surfaces demand different kV output. If you often come across instances where you are required to powder coat different types of surfaces, it would be ideal to buy a powder coating gun with an adjustable kV output, also known as a dual voltage output.
A higher kV output releases highly charged particles so they stick on quite easily. The opposite is true in the case of lower kV output charged particles.
On an industrial scale, one must buy powder coating systems and guns that have an adjustable dual voltage of up to 100 kV or more. For domestic or household purposes, powder coating guns with an adjustable dual voltage of up to 50 kV should do the job.
Nozzle Flexibility
If you are in the market for the best powder coating gun, do ensure that the gun you buy has the option to replace the tip and nozzle with ease. Nozzles determine the powder flow since they influence the way in which the powder comes out.
Altering the powder flow also results in a change in spray rate. However, this is extremely useful if the requirement is to powder coat large and small objects at the same time. Smaller nozzles and tips will spray a thin stream of particles whereas larger nozzles and tips will spray over a larger area at once.
To power coat different kinds of surfaces that come in many sizes and shapes, it is best to have a spray gun that allows the replacement of the nozzle and tip, especially if it is being used professionally.
Mobility
If the nature of your work is such that you need to travel with your powder coating gun, the biggest factor to consider here would be to ensure that it is easily transportable. This is easily possible if it comes with a safe and sturdy storage case for the powder coating gun and powder bottle.
For heavy powder coating systems that come with large powder tanks, ensure that they are easily movable with the help of trolley wheels. If you have a flexible budget, be sure to pick a powder coating gun that is durable but lightweight at the same time.
Anodizing Coating Vs Powder Coating?
Anozdizing Coating is nothing but the thickening of the thin oxide layer that naturally forms on Aluminum when it is exposed to air. This passive layer protects metal from external elements.
Aluminum is submerged into an electrolytic bath that is then charged. This creates a thicker oxide layer on the surface than the one which forms naturally.
The anodizing of aluminum enhances the strength of the coat and improves resistance to external wear and tear. It protects the surface from harmful dyes and chemicals.
Powder Coating on the other hand can be used on a wide variety of metals and not just on aluminum. It is a dry application process where the powder is given a negative electrostatic charge and is sprayed onto the surface using a powder gun.
Depending on the nature of the surface and finish one looks for, multiple coats can be applied. The charged powder is attracted to the metal and sticks to it. Eventually, it is heated in an oven where the powder coat turns into a solid layer.
FAQ
How much PSI do you need for powder coating?
Powder coating need not be done under high pressure. The most common air pressure range can vary between 5 and 10 PSI.
Is powder coating the strongest paint?
Yes, powder coating is a lot stronger than paint. It guarantees long-lasting finishes and protects the metal surface from external wear and tear for a longer time.
How long do powder coatings last?
This largely depends on the number of coats that have been sprayed and also if additional chemicals have been mixed with the powder to enhance its life. Typically, powder coats can last from 5-20 years but their life is subject to many factors.
Does powder coating last in the sun?
Exposure to UV light and sunrays can break down the sprayed particles, thereby reducing their life drastically. A basic powder coat sprayed on an outdoor item will start to lose its strength in just 12-18 months.
Can you paint straight over the powder coat?
Regular paint cannot bind itself properly to the smooth finish of a powder coat and as a result, it is impossible to paint over it.
Final Thoughts
As mentioned, there are many influencing factors that go into buying the best powder coating gun. At the end of the day, it all boils down to what suits you best. Though we listed the best powder coating guns this year, ensure to note what features match up to your requirements.
We still recommend the Chicago Electric Power Tools Portable Powder Coating System straightaway to anyone since it packs all the kit one would need for DIY powder coating projects and medium-scale professional powder coating projects.
But, do feel free to go through in detail, the other three models we've listed as they are the best in what they have to offer. Carefully consider the factors we've spoken about before buying the best powder coating gun. This will definitely help you zero in on the right choice!
Related Content: