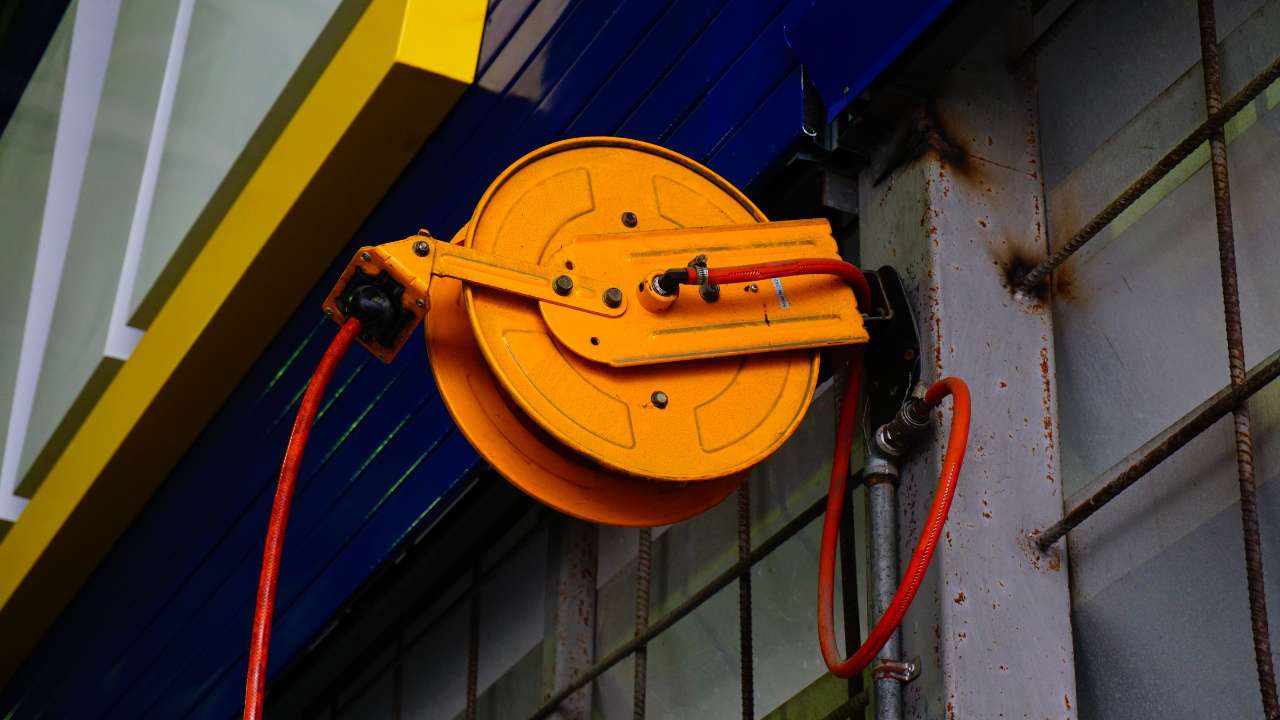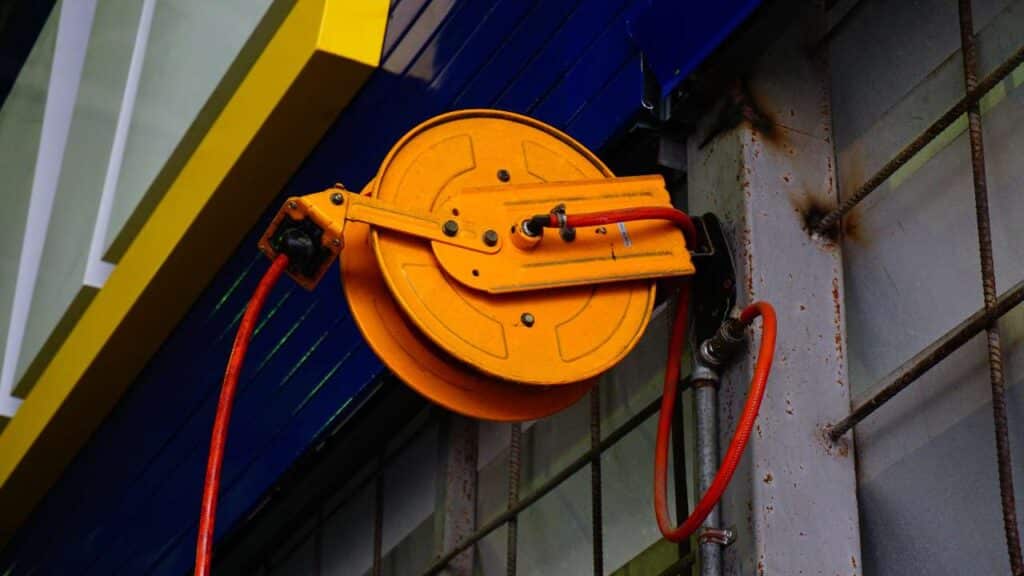 The best retractable air hose reel is none other than the Goodyear ⅜ inch x 50 ft SBR rubber hose — the reason being its great quality at an astonishing price. 
There are several competitors that offer great value such as Dewalt, Giraffe Pneumatic, MaxWorks, Reel Works, etc, However, after conducting thorough testing, Goodyear came out on top being the premium of the lot. Kobalt is also a known brand but it does not live up to the expectations.
I will break down all the aspects of the best retractable air hose reels available in the market today so you can make an informed decision.
I have discussed factors such as material compositions, locking mechanisms, length, flexibility, corrosion resistance, wear resistance, weather resistance, mountings, and most importantly budget-friendliness.
7 Best Retractable Air Hose Reels
Goodyear Air Hose Reel

– Best Overall

8MILELAKE Retractable Auto Rewind

– Best Budget
Dewalt ⅜ inch 50 ft DXCM024-0345 Retractable Air Hose Reel – Best Premium
Goodyear products have always been one of my favorites. It offers a range of different retractable air hose reels, but this is the only Goodyear air hose reel with high-quality materials that I would recommend. The remaining ones are not really up to that Goodyear mark.
This is a single-arm configuration rather than a dual-arm, which is actually a good thing since you aren't restricted to a fixed inlet placement, you can simply have a 90-degree elbow quick connect to attach the jumper hose (the hose that brings the pressure from the cylinder to the retractable reel, where the inlet is located).
It comes with a ⅜ inch SBR hose — 50 ft in length, which is adequate for most garages and mancaves where you and I can work on all of our projects with ease. It is capable of handling pressures up to 300 psi. Every tool rated under 300 psi, available in your arsenal, is going to work with this retractable hose.
Normally I would never allow water usage for these reels, however, this particular hose comes with powder coated finish, which is so heavy-duty that occasional use of water won't damage the air hose reel. You would need proper fittings for the pressure washer system to be attached to this hose, and I would highly recommend using the quick connects.
On the bright side, this product is also marketed as a water hose. However, I would still recommend not using water all the time and making sure to run air through the hose especially in winter to prevent the hose from getting clogged with ice.
The build quality is great and it will work even in freezing cold weather. The swivel and rollers make sure that you don't get any kinks or wear on the hose, which means it will last you a long time. The hose stopper is adjustable, so you can have variable fall of the hose according to your needs.
The arm is also adjustable which gives you a lot of freedom in your mounting choices. Make sure to get the appropriate ¼ inch connectors that work with this retractable reel.
Now for the downsides, you don't get the lead-in hose (jumper hose which brings the pressure from the air compressor), and not to mention that this reel is a little on the expensive side. You will have to buy that separately if you don't have that hose lying around already.
Installation of this retractable air hose reel is another downside that you may have to keep in mind — it's not easy to mount, plus you don't get the hardware, mainly because the manufacturer doesn't know how you will be mounting your reel.
Pros
Great Quality
Heavy duty material
Long service life
Excellent locking mechanism
Protective coating
Cons
Does not include the lead-in hose
Installation is not easy and requires extra hardware
This is the most inexpensive option when it comes to retractable air hose reels. The quality is just right and the price is too good to be true. Now you do have fewer mounting options compared to the expensive ones, but it's certainly not a deal breaker. You can either mount it on the wall or on the ceiling.
This reel is lightweight which means you can even mount it on your wall without having to worry about any damage. To make sure that it stays put, it's best to mount it on a wooden base and have that base mounted to the wall or the ceiling. It does come with an instruction manual and some basic hardware.
The lead-in hose is also included with this retractable reel but some say that it's short in length, so you might have to buy an extra extension hose if your compressor is placed further away from the retractable air hose reel.
The length of the hose is 33 ft with 5/16 inches of hose thickness, which is enough for your average garage or workspace, however, you can always mount it somewhere around the center of your working area, so it can reach all corners.
The auto rewind might feel a little weak when the hose is slightly pulled, for which you can disassemble the casing and tighten the white plastic plate by turning it two or three times. You would need a 20 mm socket wrench to remove the hex socket. You would also have to remove three screws, then put it all back, and you are good to go.
The arm is also adjustable with a leverage of 180 degrees, so can have the hose hanging at the perfect angle to assist you in your work.
This specific reel is not heavy duty and I would not recommend it for commercial uses. Plus, it's a plastic material although strong, you would still find it lacking when it comes to large-scale work.
If you are only going to use a retractable air hose just for cleaning your vehicles i.e detailing the engine bay, this product is adequate. So for normal use, this is the best retractable air hose reel.
Pros
Lightweight
Inexpensive
Lead-in hose is included
Best retractable air hose reel for home usage
Cons
The lead-in hose might be short for some
Maxworks 80720 offers two different lengths of hoses to choose from — you can either have a 25 ft hose or you can opt for a longer 50 ft hose, depending on your needs. This reel comes with a ⅜ inches hose with brass fittings.
Of all the retractable air hose reels, this is the one that comes with my favorite color combination — black and red, which looks really cool in my opinion. It has a powder-coated finish, which makes it weather resistant as well.
With the metal alloy (Alloy steel) used in the construction of this air hose reel, you can even use it for commercial purposes without costing you as much as that high-end premium stuff. You can use this relatively cheaper air hose option that does the same job.
With the advantage of durable metal alloy, you do encounter a problem of excessive weight. I would highly recommend you get a set of helping hands when mounting this to your ceiling. Mounting on the drywall is a big no, the drywall won't be able to bare the weight, and you should only mount it on a concrete wall.
For wood ceilings, it's best to prepare a wooden base, which holds the reel to the ceiling, giving more sturdiness overall. The hose stop can then be adjusted accordingly.
Water applications on this hose are not feasible — you might have it connected to a pressure washer or run weed killer, but it's only going to damage the internal layer of the hose so it's best not to use it for water applications.
The retractable mechanism is top-notch — feels much better and tight compared to the competition. The rollers on the top of the arm help in the smooth pulling and retraction of the hose without causing any hose wear or hindrance.
Another great thing about this Maxworks reel is the 90-day warranty which the others don't offer, making it a very lucrative deal.
The only problem with this reel is that it does not come with an inlet hose (to connect the compressor to this reel. Depending on the location of your compressor and where you mount this reel, you would have to buy an extra hose with the ¼ connectors to the ⅜ hose.
I can't emphasize this enough —  always get the quick connect, especially the 90-degree elbow quick connects to prevent bending and ugly-looking connections. Trust me, the garage will look much tidier with these.
Pros
Corrosion resistant
Reduce hose wear
Powder coating
Great locking mechanism
Heavy duty
90-day warranty
Cons
A rubber air hose reel could be better
The supply hose is not included
This one is a ⅜ inch 50 ft retractable air hose reel with an automatic mechanism that winds up the hose by equally distributing it over the reel. It also has an adjustable hose stop that stops anywhere with a locking function so you can utilize any length of the hose with ease.
With its mounting bracket, this retractable air hose reel can be mounted on either the wall or the ceiling, giving you 180-degree free rotation which helps in putting the hose at the optimum angle from your work, making it a very good air hose reel.
The hose material is a special kind of hybrid material, which does not kink or lose its flexibility, thanks to the no-memory function and superior bend radius. Furthermore, you get a self-leveling system, which keeps the air hose reel in place.
The connectors on this are made of solid brass fittings, which won't corrode. The only downside to Dewalt products is the price tag — they are a little on the expensive side. Overall, this retractable air hose reel is high quality and would last you a long time.
Pros
Heavy duty
Adjustable hose stop
Solid brass fittings
Alloy steel spring
Self-leveling system
Cons
Expensive
The automatic spring-powered drive is not strong enough
From what I have learned so far, Amazon makes some of the best products based on customer reviews and feedback and this reel is no different. Amazon takes all the suggestions from some of the best-selling products and manufactures its own products.
This reel is ⅜ inch x 50 ft just like most retractable air hose reels. The hose is made of premium commercial-grade flex hybrid polymer that would last you a long time before going to heaven.
The maximum pressure rating on this retractable reel is 300 psi, and the mechanism that retracts the hose is made of a heavy-duty spring. The overall construction is made of steel which comes powder coated so you won't have to deal with rust issues.
Now, this particular reel is made to work with water applications as well, however, the pressure from a pressure washer system would be too much for this reel, it's best only to use it with such water applications where maximum air pressure used won't exceed 300 psi.
The multi-position guide arm is adjustable up to 180 degrees, plus, you also get the adjustable hose stopper. The rollers on the reel help avoid abrasion damage to the reel. 
You do not get a lead-in hose with this retractable reel, and you would have to buy that separately.
Another drawback is the stopping mechanism which is way too soft. You need to stand right in front of the reel to listen to the clicks where the hose would lock in place, otherwise, it would wind back without stopping.
The installation process is not a walk in the park, make sure you have a set of helping hands to aid you in the installation procedure. You can either mount it on a flat surface, the wall, or the ceiling.
Pros
Auto guide rewind system
High-quality hose reel
Cons
Installation is hard
Hard to distinguish the clicks from the locking mechanism
This is one of the most inexpensive retractable air hose reels you can buy today. It gives you everything a high-end retractable air hose reel would give, on top of that, you also get a 5 ft lead-in hose, which is not included in most of the reels, making it the best retractable air hose reel to use on a budget.
Like most other reels, this one is also a ⅜ inch hose with a length of 50 ft. The overall casing of the reel is made of plastic and the rollers/hose guide is also kind of plasticky.
The arm is 180 degrees adjustable, giving you some leverage while working around the garage. The reason why I said the garage is obvious — this product is not suitable for commercial purposes because of its subpar quality.
This reel also comes with the best instruction manual along with the required hardware, however, it's best to have a set of extra bolts to secure it in your desired location. You can either mount it on the wall or the ceiling, you have both options.
The major downside is the quality which is to be expected from such an inexpensive product. The place where it's the most obvious is the winding mechanism — it's not strong enough, and you would have to feed it back for it to wind properly.
The customer support on this product is lacking even though the seller states that they value its customer, the reviews say otherwise. Apart from the customer support issue, you can have a replacement if you end up with a lemon — customer support will send out a replacement so make sure to test the product thoroughly when you receive it.
Pros
Comes with most of the required hardware
Instruction manual
Cons
Customer support is not that great
The auto rewind feature is not strong enough
This reel is made of impact-resistant Polypropylene (plastic) structure having a ⅜ inch x 50 ft PVC hose. A 3 ft lead-in hose is also included with this retractable air hose reel.
Unlike most retractable hoses with 4 rollers, this one only has 2 rollers that help guide the hose back on the reel with minimal abrasion. The hose material makes sure that it won't form any kinks while winding or bending during use.
The swivel mount for this retractable air hose reel has a leverage of 135 degrees for a wide range of use, allowing the hose to stay linear as much as possible during use.
Now, this swivel bracket causes a headache when mounting on the wall or the ceiling, you would have to dissemble the swivel for it to mount properly. Or you can also make a custom mounting bracket, allowing you to mount it on the wall along with the swivel.
Pros
Bend restrictors
Swivel mounting bracket
Auto rewind
Automatic spring-powered drive
Cons
Retractable Air Hose Reel Buying Tips?
When buying a retractable air hose reel, make sure you have the right fittings that go with your air compressor. Most of the air hose reels come with ¼ NPT fittings, you can buy the quick connect that goes with the fittings and you will be good to go.
The quick connects will also help you with setting up the compressor and the lead-in hose, as you might have to put an extension hose on top of the lead-in hose.
Most retractable air hose reels have a very small lead-in hose that can not be replaced, so the only choice is to extend the hose. While some sellers don't even provide the lead-in hose and the only option is to buy it separately.
If you are thinking of using a pressure washer, avoid the plastic ones as they won't be able to bear the weight of the reel when it's filled with water. Plus, the pressure rating for the air hose reel is much lower than that of the actual pressure washer hose reels.
I would highly suggest that you go for a specific pressure washer hose reel if you want to use the pressure washer.
Another thing that you must consider buying is Teflon tape. Most users neglect to put Teflon tape onto the connections which leads to leakages down the line.
Why Should You Use Retractable Air Hose Reels?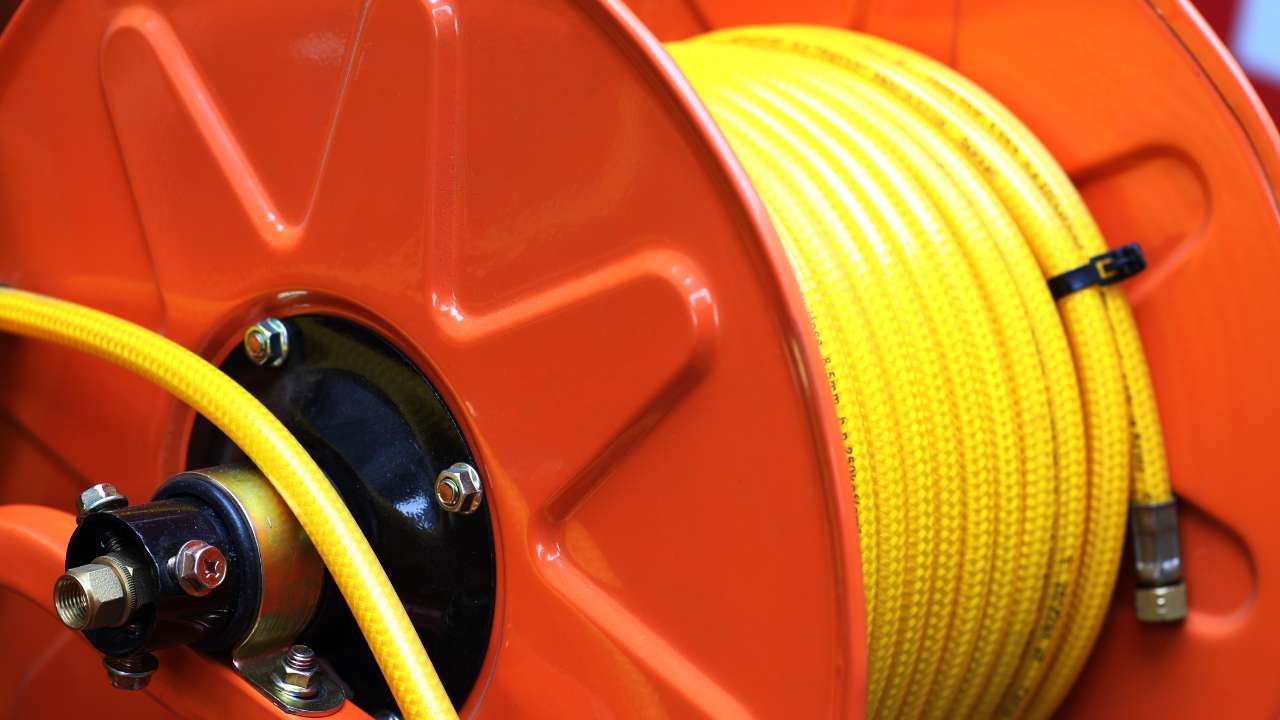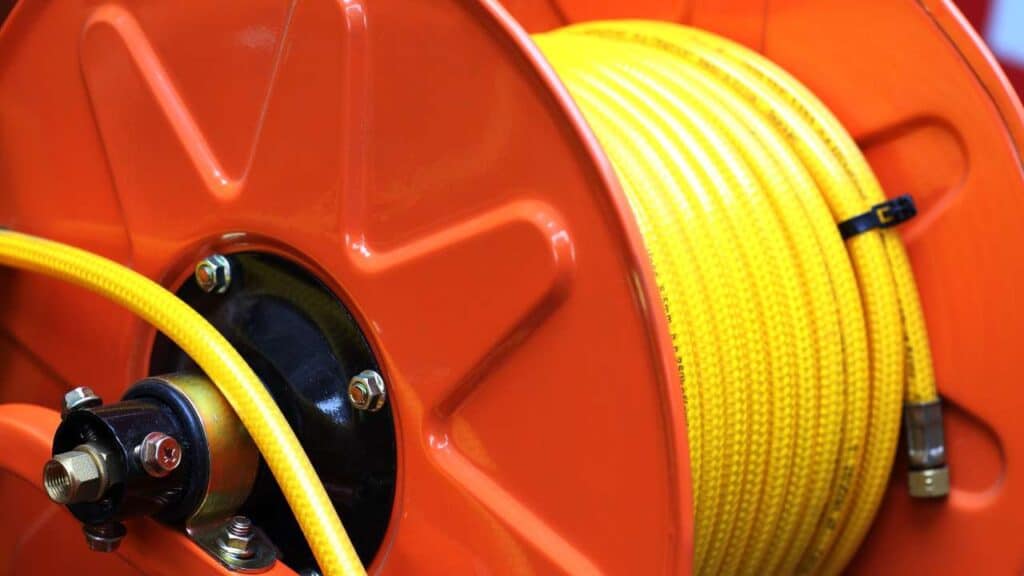 Retractable air hose reels tackle all the tangled mess created by the hose and you no longer trip over the hoses lying around. Furthermore, the hose won't be getting stuck at every corner of the table or under the tires. 
The best thing about these retractable air hose reels is the design element — you will have an elegant-looking garage/shop.
On a side note, get the quick connect for the air tools, it will be so much easier to change to another tool.
How Does an Air Hose Reel Work?
Most air hose reels work on a retractable spring mechanism, having bearings to assist in smooth functioning. however, each manufacturer would have slightly different adjustment positions because of patents and all those legal issues.
The basic principle is the same, but the components are slightly different in each of the products you see.
You can pull the hose reel and while you do that, you would hear intermittent clicks, which represents that locking mechanism, and once you are in between the clicks, that's where the reel would wanna wind back onto the reel.
So when you are using the air hose reel, it's best to pull sufficient length for your work because if you pull the rubber air hose just a little more while you are using a gun or wand, it would retract and cause damage.
FAQs
Are hose reels worth it?
Yes, hose reels are 100% worth it if you are looking for convenience and ease of operation. Often times the hose gets tangled pretty easily and gets stuck while you are moving around doing your job i.e having your tires pumped at the right psi for a smoother drive and lasting tread.
Can you use air hose reel for pressure washer?
Yes and no. The problem with the air hose reel is that it's not meant to be used for water applications because you would end up damaging the inner lining of the hose reel, what you can do is replace the air hose reel with the pressure washer reel so then you would be able to have that retractable mechanism for your pressure washer.
The air hose reel can not handle the pressure of compressed air meant for a pressure washer application. The max an air hose reel can handle is 300 psi, whereas a pressure washer would go up to 4000 psi depending on the setup.
To get everything in place, you would need a couple of extra fittings that would allow the pressure washer hose reel to be attached properly to the retractable mechanism. Then again, the retractable air hose reel might not be able to handle the weight of a water-filled hose reel.
Can an air hose reel be used for water?
You can use the air hose reel for water however, it's best not to lest you would have rust issues down the line — the air hose reel is not going to last while having water running through the inner lining. A garden hose is more than enough for water applications at such low air pressure.
How long should a hose reel be?
Whatever hose length you have in mind, you should get a little longer hose than that. There are several reasons why — the major one being the retractable mechanism. The retractable air hose reel would not retract smoothly if the reel is all the way at the end and there are no more clicks that would aid its auto rewind function.
It also means that you should not pull it all the way up to the end, as then you would have to manually push it back onto the reel, and if the retractable air hose reel is mounted at the ceiling, that's a whole lot of work. A hose length of 50 ft is more than enough for most air hoses.
Final Thoughts
After going through dozens of retractable air hose reels with a bunch of different mounting brackets, the best retractable air hose reel is the Goodyear 50 ft air hose reel, which also requires a whip hose for connecting the air compressors of your choice.
If you are looking for a budget option, I would recommend the 8Milelake which has a built-in whip hose/lead-in hose. And for an all-rounder option, the relatively heavy-duty MaxWorks retractable air hose reel works the best, giving two options for the hoses (a long hose, and an optional shorter hose that is also cheaper)
To attach your air tool, I would highly recommend using the quick-connect fittings. For the lead-in hose, you can use the 90 degrees elbow quick connect.