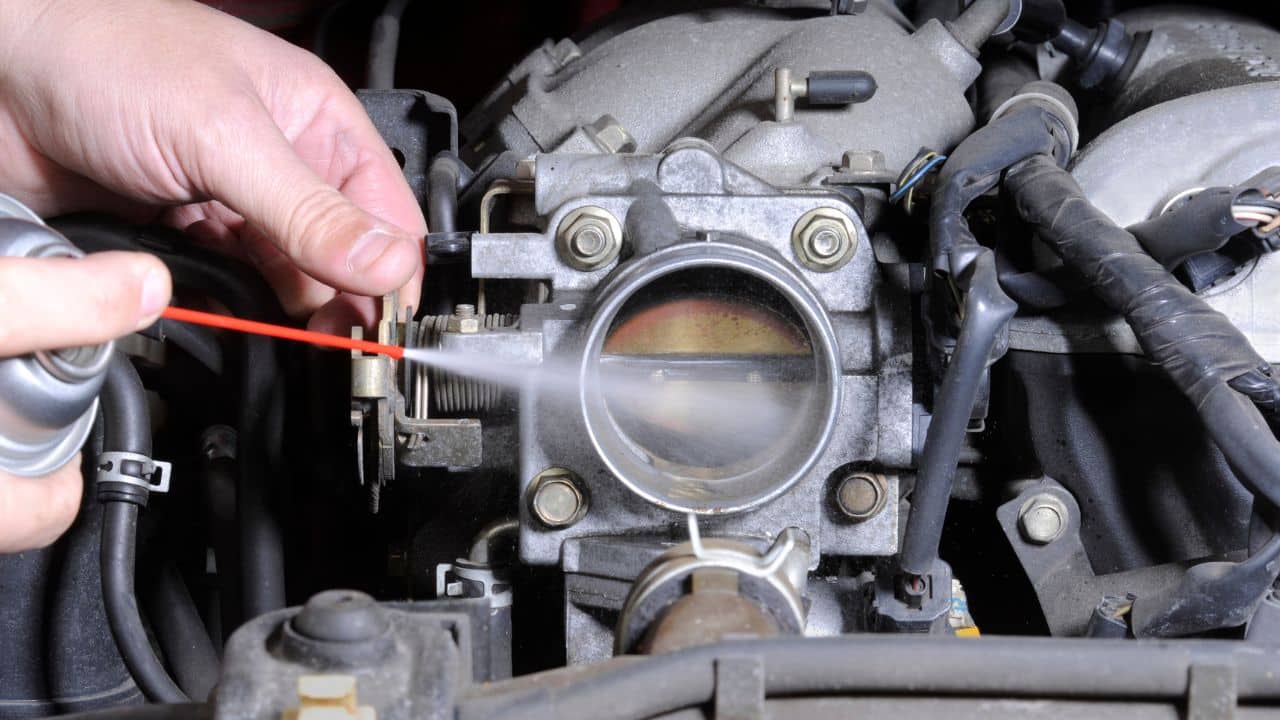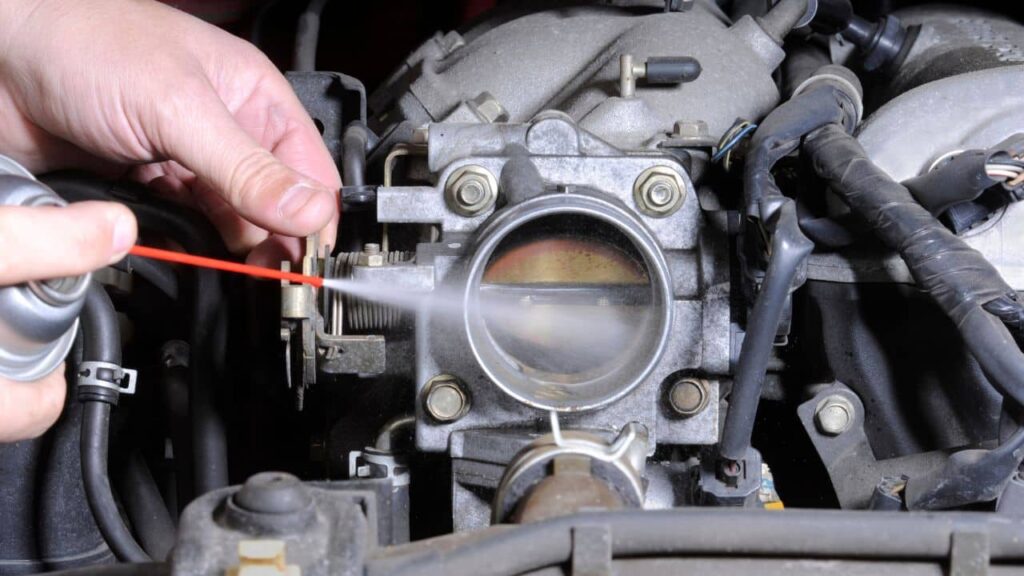 Engine carbon cleaners have made quite an impact in the market lately, especially with more and more people wanting to extend the life of their cars' engines.
We say why not? As engines become more powerful, and more fuel efficient, they also tend to get more complex. So over time, carbon deposits make their way inside the engine and settle down for good!
As a result, it is imperative that you choose the best engine carbon cleaner for your vehicle. Only the best product would clear all the carbon accumulated over the years and months. Any compromise in choosing the best product would only do more harm than good.
Without much further ado, we're straightaway letting you know that the best Engine Carbon Cleaner is the WD-40 Specialist Carb and throttle body parts cleaner.
This is a reasonably-priced solution that cleans up all the main internal components of an internal combustion engine- from the combustion chambers and throttle body to the entire engine head.
We've come to this conclusion after closely analyzing cleaners from different brands, from the expensive ones to the downright cheap and dirty ones. After seeing what each one can do, we've shortlisted and categorized the best ones that you could use to clean the carbon deposits inside your vehicle's engine.
5 Best Engine Carbon Cleaners
Best overall Engine
Versatile performance, thanks to its dual action cleaning system
Efficient carbon cleaning performance
Compatible with almost all vehicles
Ideal to smoothen engine performance
The throttle body and parts cleaner from WD-40 is the best carbon cleaner you can get your hands on and there are a number of reasons for that. Firstly, WD-40 makes some seriously epic products. It is a reputed and reliable brand one can opt for.
Secondly, this particular carbon cleaner is compatible with a wide range of vehicles like cars, motorcycles, trucks, and other equipment that run on a diesel engine or a gasoline engine. This makes the WD-40 carb cleaner a highly versatile and safe-to-use product, unlike many other carbon deposit cleaners that are vehicle or engine specific.
There are cleaners in the market that claim to perform various roles like degreasing, carbon clearance, and throttle body cleaning but they cost a bomb. However, in the case of the WD-40 cleaner, it is well-priced. So well that it could make you wonder if the product would actually work. Have no worries about that though.
The price plays a big factor in a product being the best and that is one primary reason we call this the best. Let me put it this way, for a few dollars, the WD-40 does the job of a highly sophisticated and professional carbon deposit cleaner.
In technical terms, the WD-40 carb and throttle body cleaner is equipped with a dual-action cleaning system that not only clears the carbon buildup in the engine but, it also cleans the throttle body and protects unpainted metal parts.
WD-40 carb cleaner helps improve fuel economy, engine startup becomes a lot smoother, idling becomes consistent and high RPM performance returns to normal. The cleaner will in no way affect the oxygen sensors or catalytic converters in any way.
If this is used in a timely manner, right before the carbon buildup starts to get thick, it can extend your car's engine life by thousands of miles!
Pros:
Well-priced and easy on the pocket
Clears carbon deposits and improves fuel economy
Versatile carbon cleaner works on multiple engines
Improves high RPM performance
Suitable for beginners and professionals
Cons:
Users may need a separate cleaner to deep-clean fuel injectors
Best for full flush
Cleans entire engine oil system and restores engine performance
Removes carbon deposits efficiently
Prevents defects that could arise as a result of friction
Works well with all kinds of engines
If you're someone who is looking to completely flush your vehicle's engine, look no further than XADO's engine oil system cleaner that goes deep inside the engine and flushes out all the extra grime and carbon. It cleans not only the engine head and throttle body but, penetrates deep inside the engine and leaves no corner unchecked.
Made up of special detergent and dispersed components, the XADO full flush cleaner flushes out all carbon deposits from the engine and improves engine performance. It revives piston mobility back to its optimum setting and adds a layer of anti-wear protection which helps increase engine life.
What sets this cleaner apart from the WD-40 is that this penetrates deep into the internal combustion chambers. It is best for extremely high mileage, old engines that require complete flushing of the engine. Not only that, but it also cleans the crankcase ventilation system!
The XADO engine oil cleaner is compatible with all types of engines and vehicles- be it naturally aspirated engines, gasoline direct injection engines, turbocharged engines, or any other engine that runs on gasoline and diesel fuel system.
Another advantage of this engine oil system cleaner is that it is beginner friendly. A user manual is provided in the package that works well as a guide for a first-timer.
PROS:
Excellent product for deep cleaning service of the engine
Improves engine life, performance, and fuel economy
Universal compatibility
Clears all the gunk and carbon and restores engine to its best condition
Cons:
You might want to buy separate fuel system cleaners to clean fuel injectors or the entire fuel system
Best premium carbon cleaner
Titanium Oxide TiO2 nanotechnology offers a protective coating to the engine
New-age technology has proved to be the most powerful in removing carbon deposits
Reduces load on the fuel injectors and the entire fuel system
Improves oil vitality and minimizes oil burn
The Carbon Cleaner from A+ is ideal for those who want to adopt new technology to clear carbon deposits in their engines but don't mind spending a premium on it.
The A+ Max engine carbon cleaner adopts powerful nanotechnology to flush out carbon, grime, and sludge and at the same time, improve abrasion resistance and toughen the internal walls of the engine.
The TiO2 (Titanium Oxide) Nano technology acts aggressively against carbon buildup. This is the one to consider if you're looking for the most powerful carbon cleaner. Once the engine is flushed, the nanoparticles create a protective layer around the engine components like piston rings, gaskets, and seals.
This results in improved protection for the engine, it also reduces the overall heat and improves wear resistance. The cleaning process isn't complicated in any way. Users observed a drop in fuel consumption and an improvement in overall performance, and smoothness.
Even if your vehicle's engine oil has little life left in it, the A+ carbon cleaner will improve its vitality and in many cases, it also assists in minimizing oil-burning issues.
Fuel injectors that once worked hard among the carbon slime will not work effortlessly, thereby reducing the overall load on the fuel system. This product works with both diesel engines and gasoline direct injection engines.
Pros:
One of the most powerful carbon cleaners on the market
New technology is more efficient
Protects engine components and improves engine performance
Compatible with diesel engines and gasoline engines
Maximizes fuel economy
Reduces load on the fuel injectors and fuel system
Saves engine from old expired oil
Cons:
Being a premium carbon deposit cleaner, it is very expensive
New users may hesitate to adopt fresh technology
The cleaner may suit modern engines more so you will have to check for compatibility
Best for Turbo Engines
High concentration of PEA
Best suited for GDI engines
Eliminates carbon gunk from the entire engine and intake valves
Works best with gasoline engines
Known to revive engine performance and horsepower
Powerful enough to clear 46% of carbon deposits in just one hour
Easy to use
If you're concerned about carbon deposits in the intake valve for GDI engines (gasoline direct Injection), then worry not because we've got the best for you in this segment as well! It not only clears carbon deposits from the entire engine but also from the intake valves.
GDI engines accumulate soot rather quickly when compared to non-direct injection cars. In such cases, it is advisable to use the CRC intake valve and turbo cleaner rather than a fuel injection cleaner. Direct injection works differently from conventional fuel injectors and hence, it demands a different fuel injector cleaner treatment.
The CRC cleaner is a high-grade cleaner of superior quality, often preferred by professionals so one can leave their doubts aside on its efficiency. The brand offers it with the highest concentration of PEA (Polyether Amine) which is 150 times more concentrated than fuel additives.
This cleaner is so powerful that the manufacturer claims it can remove up to 46% of carbon deposits on the GDI intake valves in just one hour! If that isn't good enough to convince you then you also know that the cleaner can be easily installed through the intake system by yourself without much assistance.
If you own a turbocharged vehicle with a GDI fuel injection system, we'd highly recommend the CRC cleaner to you. Once the carbon buildup has been cleared after using this product, the engine will regain its lost horsepower and you would be able to notice a significant improvement in throttle response.
Not only in terms of power delivery, one would be able to observe better fuel efficiency as the clogged injectors are rid of carbon buildup. Cleaner intake valves imply better fuel economy and less harmful exhaust gases.
Pros:
Highest PEA detergency
Best fuel injector cleaner for GDI engines
Easy to use without having to disassemble parts
Revives engine power and fuel economy
Clears the majority of carbon deposits in the intake valves with just one go
Flushes engine deposits and harmful solvents
Cons:
Not compatible with non-turbo engines
Concentrated carbon cleaner can be harmful to the skin and eyes hence it must be used with caution
Best Fuel System Cleaner
Cleans the entire fuel system apart from clearing carbon from other areas of the engine
Works with old and new engines
Quickly clears clogged injectors
Restores lost fuel economy and smoothness
Ideal for high-mileage vehicles that have not undergone carbon cleaning
The Chevron Techron Concentrate Plus fuel system cleaner is the best fuel injector cleaner on the market, the primary reason being that it is a complete fuel system cleaner.
In addition to carbon cleaning various engine components, intake valves, throttle body, and combustion chamber, the cleaner restores the entire fuel system to its optimum best!
This is a must-use product if your vehicle has been consuming more fuel and has been displaying other signs of carbon build up.
Not only does it do the job of a fuel injector cleaner, but it also performs the job of a carbon deposit cleaner and an intake valve cleaner. There aren't many fuel injector cleaners in the market that can do all that.
This fuel injector cleaner works with new and old engines so it is very versatile in nature. It eliminates problems like rough idle, spark plug fouling, and RPM surge and clears any deposits left behind by poor-quality fuel.
While many other fuel injector cleaners offer similar results, they often fall back when it comes to dealing with components that are not a part of the fuel system.
Being one of the best fuel injector cleaners on the market, it does come with a price tag that one wouldn't describe to be low.
However, if you're vehicle has clocked high mileage and is in desperate need of not only a carbon remover treatment but also a fuel injectors cleaning process, then the Chevron techron concentrate plus makes a lot of sense to be investing in.
Pros:
High versatility factor since it is compatible with old and modern engines
Best fuel injector cleaner on the market
Removes carbon deposits from other areas of the engine too
Optimises fuel injector performance
Improves fuel economy
Cons:
Some users have complained about poor packaging on online marketplaces
What to look for in a Carbon Cleaner?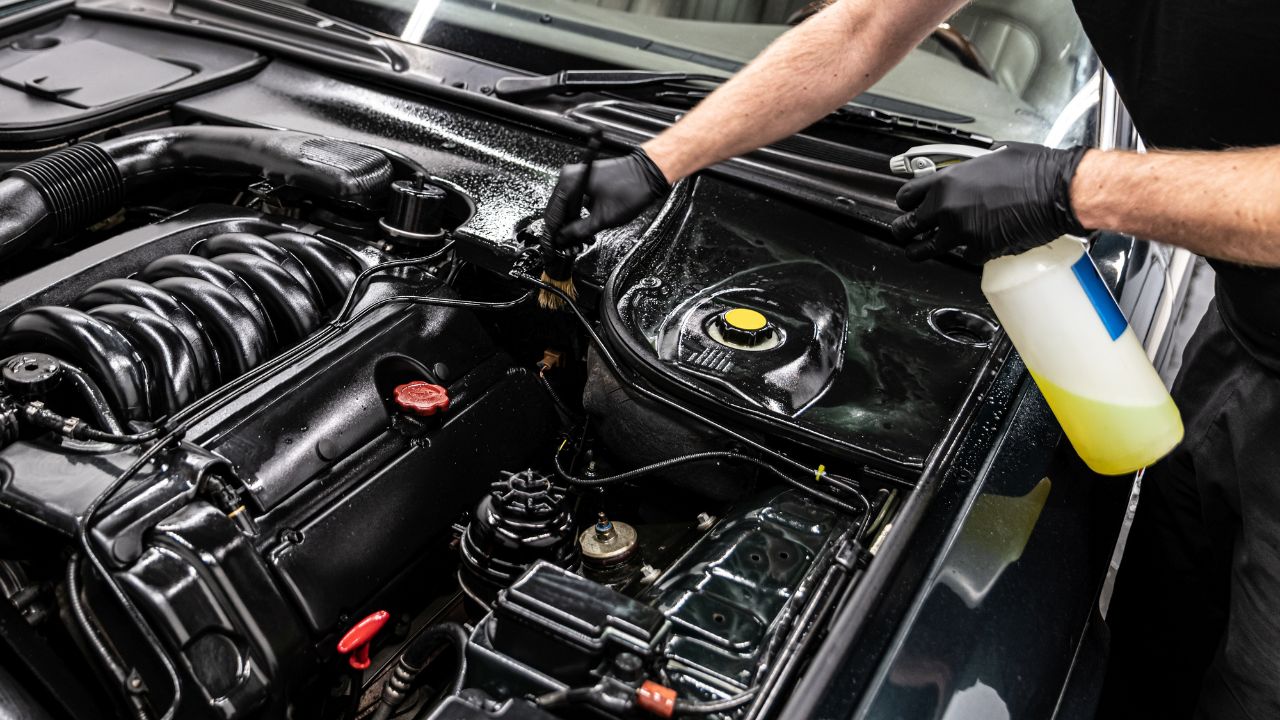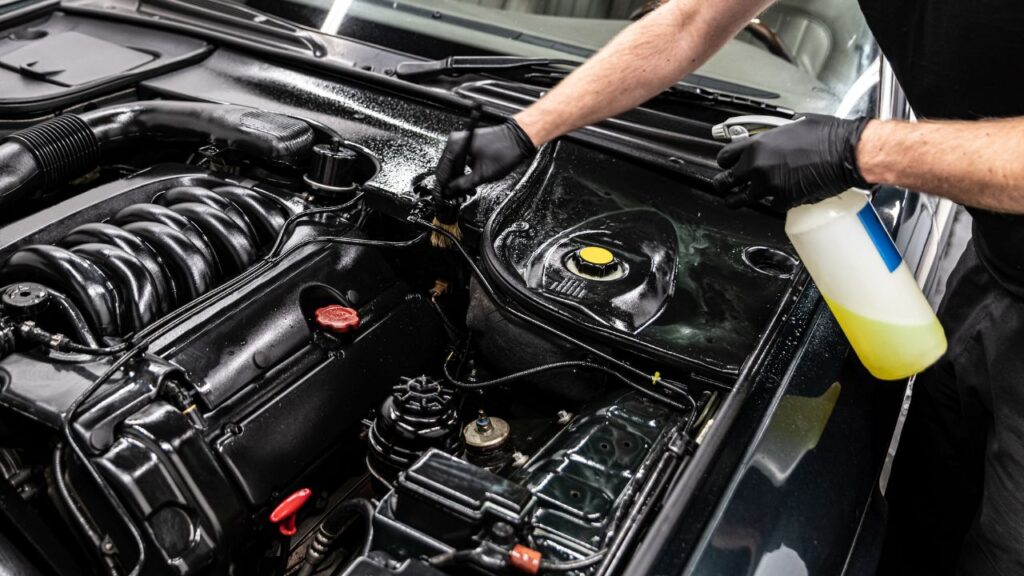 As you might have noted, there are a variety of carbon cleaners in the market, each one meant to perform a specific function, each one suited to a specific engine or vehicle model. So then, how does one know which one to buy? Here are a few points that one must consider when looking to buy a carbon cleaner.
Purpose
Do you want to clear carbon deposits from the intake valve or are you looking to clean the entire fuel system? Are you worried about increased emissions or are you aiming to flush carbon from a high-mileage engine desperate for treatment?
When you know what components of the engine need clearing carbon build up, it would be easier to zero in on the kind of carbon cleaner to invest in. It is important to understand what area of the engine has been affected by the carbon build up and if they require an extensive flush or not. This would help choose the right product for your vehicle.
Suitability
Do you know if a certain carbon cleaner that you want to buy for your vehicle is compatible with your engine? Though most carbon cleaners work in a similar fashion, they use solvents that are sometimes suited to certain car models or certain engine types only.
Carbon cleaners are also engine-type specific. A regular carbon cleaner would not work on a turbocharged GDI engine. Similarly, a carburetor carbon cleaner won't be compatible with a modern throttle body. A fuel injector cleaner can't carbon flush the entire engine.
As a result, it is imperative that you look for a carbon cleaner that suits your engine and its components. This is something that cannot be taken lightly as using an incorrect carbon cleaner could do more harm to the engine than good.
Performance vs Fuel Efficiency
Certain cleaners are focused to revive all the lost horsepower that must've escaped over the years of car ownership. Such cleaners eliminate carbon build up in a way that helps increase power and improve performance. A marginal improvement may occur with respect to fuel efficiency.
Carbon cleaners focussed on improving fuel efficiency and reducing emissions may not necessarily revive all the lost horsepower. But, they do make a huge difference in clearing the fuel system and reducing fuel consumption.
Such cleaners help a great deal in clearing emission tests or MOT check passing. A fuel injector cleaner would make a lot more sense in this case.
Ease of Use
This is a point one must consider, especially if you're getting into carbon cleaning an engine for the first time. Carbon deposit cleaners that are engine compatible and come with a detailed user manual would be the best choice for a beginner. This would not only ensure the safety of the user but, it would also ensure that the job is done right.
What will happen If I don't clean the carbon from the engine?
Carbon deposits in the engine components build up gradually over the years as you use the vehicle. After a certain point in time, the carbon deposits become so thick that they begin to interfere with the functioning of the engine.
You would slowly start to notice a drop in horsepower, a drop in fuel economy, and increased emissions. If you notice these problems occurring simultaneously, it is a warning sign to take immediate action in clearing carbon build up.
If a carbon remover isn't used at this point in time, then the carbon build up would reach a point where it would prevent functional engine parts from moving, thereby causing the engine to seize. An oil change or regular servicing would not be able to clear the carbon.
While carbon cleaning could sound a bit unimportant, it can have serious repercussions if not done on time. It could get worse if you haven't used a fuel injector cleaner but have exposed your vehicle to adulterated fuel.
What are the signs of carbon buildup in the engine?
One prominent sign of carbon build up in the engine is that the engine stops revving smoothly at high RPMs. This is a typical initial stage symptom of carbon deposit. As the carbon buildup increases, you will begin to notice other symptoms like an increase in fuel consumption and rough idling.
FAQ
Is Carbon Cleaning good for the engine?
Absolutely! Carbon cleaning is as good as servicing your car's engine. What harm can chemicals that clean the carbon buildup in your engine, possibly do? Leave aside harm, carbon removal takes care of all problems caused by carbon buildup.
What is the best chemical to clean carbon?
Carbon solvents, carbon removers, and fuel injector cleaners have the ability to clean carbon from the engine and the fuel system. The best carbon cleaners and fuel injector cleaners in the market would do the job but you must ensure that they are compatible with your car's engine.
What is the best way to clean carbon from the engine?
You may hire carbon cleaning service agents to clean up your engine. They use specialized professional carbon deposit cleaners but, they do charge quite a hefty sum to do the job.
The other way to go about this is to buy a compatible carbon deposit cleaner for your car and follow the instructions mentioned on the packaging. The latter would be ideal for anyone who is inclined toward DIY projects
How often should I carbon clean my engine?
There is no fixed mileage when carbon cleaning needs to be done to your car's engine. However, you may either choose to do it when you notice carbon deposit symptoms mentioned earlier or, as a precautionary measure, remove carbon deposits from your engine every 20,000 miles.
However, if your car's manufacturer claims to have your engine carbon cleaned after certain fixed intervals, you must follow the manual without any doubt.
Does WD 40 remove carbon?
The WD-40 carbon cleaner does remove carbon deposits and it is our preferred carbon cleaner.
Do injector cleaners remove carbon?
Typically, fuel injector cleaners will remove carbon deposits from the injectors and surrounding parts but not from the entire engine. If you intend to remove carbon from other engine parts, you must use additional carbon deposit cleaners.
How long does a carbon clean last?
You may choose to carbon clean your engine every 20,000 miles. But, this may vary from engine to engine. It is best to consult a professional mechanic who knows the in and out of your car's engine well. Such a professional would be able to specifically tell you the carbon cleaning interval best suited for your car's engine.
Conclusion
Now that you have an in-depth idea about carbon cleaning, we're reiterating the fact the WD-40 Specialist Carb/Throttle Body & Parts Cleaner is the best overall cleaner since it would cater to most carbon deposit problems. Its chemical composition and pricing make it the best carbon deposit cleaner, a product that would cater to most general requirements.
However, if there are other areas of the engine that you would like to specifically clean like the fuel injectors, intake manifold, or the GDI system, we've recommended other carbon cleaners that are just as good but a lot more specific in function.
Do be wary of what you're buying. In addition, do follow our guide 'What to look for in a Carbon Cleaner' to choose the right product!
There are quite a few myths that surround carbon solvents and carbon cleaning procedures. But the truth is that eventually, sooner or later, you're going to have to resort to using carbon cleaners in order to save your engine and prevent your bank balance from flowing constantly.
You read that right. Carbon deposits, when left untreated, could cause heavy damage to an internal combustion engine, resulting in heavy monetary expenditure.
Related Content: